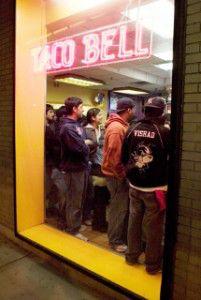 The line for Crunchwrap Supremes and apple empanadas wound through the Warren Tower Taco Bell last night, as students endured half-hour waits for a last supper on the restaurant's final day of operation.
"I came a mile and a half from West Campus to get my grilled steak burrito with extra fire sauce," Matt Cavello, a School of Management freshman, said.
"Starbucks will never really replace this," Cavello said, referring to word that a Starbucks cafe will be replacing the eatery that urged customers to "think outside the bun."
College of Arts and Sciences junior Akshar Patel said he has been coming to Taco Bell since he arrived on campus, and is reluctant to think of what will happen the restaurant is, as the slogan says, "good to go" — for good.
"I've been coming here since I was a freshman, and now that I have a night class I'm here every Monday night," Patel said.
Patel said he went to Taco Bell twice yesterday, because he wanted to do something special to mark the closing.
Students first heard about Taco Bell's closing in early March when Dining Services held student focus groups to decide how to best use retail spaces under Warren Towers.
"They put posters up in the Warren dining hall, giving away $20 in convenience points, so I signed up," said CAS freshman Denise Thorpe, who participated in a focus group.
The group was comprised of 10 students who recommended a diner-style restaurant in another retail spot, but the group was not given input regarding decisions to close Taco Bell or open a Starbucks in its place, Thorpe said. That was presented as a "done deal," instead.
Several students said they were upset by news of another Starbucks on campus and have threatened to boycott it. Many referred to a Facebook campaign urging students to go elsewhere for coffee.
"[Boston University] is turning into fitness camp," Leah Gabriel, a College of Communication junior, said. "They are taking away all the fast-food and leaving us with coffee."
Gabriel, who said she battled traffic on Massachusetts Avenue and tried to bribe other students to cut in line so she could get a Crunchwrap Supreme, insisted she would not show similar devotion to a Starbucks, especially because there are several others close by.
Many students said they mourned BU's loss by placing Taco Bell large orders.
Alex Gershen, an SMG junior, said he planned to get at least four chalupas, multiple burritos, quesadillas and possibly more.
"We really like this place because they have vegetarian food," CAS freshman Lauren Harwood said, as she and SMG freshman Jai Singhania dug into a fiesta platter they were sharing. "There aren't many places where we can get vegetarian food that's good for little money on campus."