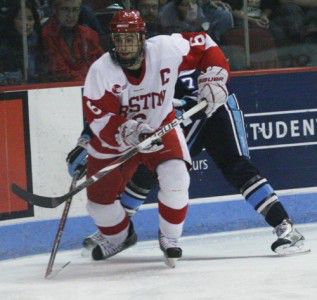 The Boston University men's hockey team dropped to its lowest spot in the national rankings since Oct. 23 on Monday when it fell to seventh in both the USCHO.com and USA Today/USA Hockey Magazine polls.
The Terriers (7-3-5, 5-3-4 Hockey East) suffered their first series sweep of the 2010-11 season when they dropped two contests in a row to Boston College – 9-5 on Friday and 5-2 a day later – over the weekend. They are now  a paltry 1-3-4 in their last eight games.
The Eagles (11-5-0, 9-4-0 HE) were awarded for their efforts with an upgrade from No. 8 to No. 4 in both polls and received four first-place votes – three in the USCHO.com poll and one in the USA Today/USA Hockey polls.
University of New Hampshire moved to its highest ranking of the season when it vaulted to No. 3 in the country after it beat University of Massachusetts-Lowell 3-1 Thursday and University of Vermont 5-1 three days later.
No. 8/6 University of Maine, whose record of 7-3-4 is nearly identical to that of BU's, was the other HE team to find itself in the top 10 of both polls. No. 17 Merrimack College gave the conference its fifth team in the rankings.
Rounding out the top five in the both polls were No. 1 Yale University, No. 2 University of Minnesota-Duluth and No. 5 University of North Dakota, respectively.
BU will get begin its road back toward the top five Wednesday when it takes on Northeastern University at Agganis Arena.