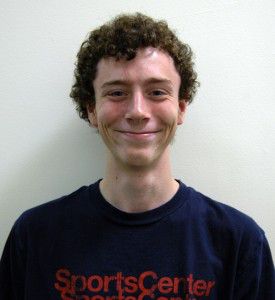 Finals are a stressful time of the year. You have massive exams to cram for, most of which count for a high percentage of your grade. Plus, the holiday season is approaching, so add in the stress of buying gifts and traveling home. And, lest we forget, there's always Boston University ice hockey to worry about.
Yes, I'm out on the ledge right now after Boston College's sweep and domination of BU over the weekend. I'm jumping off the ship. Friday night's crushing 9-5 loss at Agganis Arena was the arrow through the heart while Saturday night's 5-2 loss at Conte Forum was the killing blow.
I've written in this space in past weeks about how the BU men's hockey team is a team without a signature win but with plenty of ties. To be honest, I've written about it a lot. But as the figurative sun begins to set on the first half of the 2010-11 season, the Terriers are still lacking on all levels.
They have finally fallen back to Earth. This is now a team that has been defeated – thrice to be specific. No longer are they No. 1 in the nation. Or No. 2. Or even No. 3. They are now back to No. 7, behind those same Eagles who clawed them with talons extended over the weekend. They're good, but they're not that good.
It's the place a team that has played this way should be. This is a young team with some players yet to find their ground in the big pond that is collegiate hockey. The juniors and seniors are not strong enough to carry this team to victory or even a tie every week.
If there was one specific skill flaw I saw in the games on Friday and Saturday, it was the lack of a clean pass. Every time a stick went back and the puck flew across the ice, it seemed to miss its intended destination or to not really have a destination at all. There appeared to be a lack of communication or awareness of where other skaters in scarlet and white were.
If there was a second flaw, especially Friday in front of the home crowd, it was goaltending. A month and half ago, I defended junior netminder Kieran Millan in these pages, and I still stand behind that defense of him. But this past Friday night, he might as well not have spent the first period in the crease. The same can be said of his colleague who came in for relief, fellow junior Grant Rollheiser. They combined to stop 28 out of 37 shots and were not the same duo who helped keep BU afloat in the past few weeks as the Terriers struggled to thin coach Jack Parker's closet of ties.
Don't get me wrong. One or two losses in a season is not a bad thing. It's healthy and does not ruin a campaign. But two losses in as many nights to your biggest rival are never good. There is no way to attempt to say it's good. And it's especially not good when you get completely outplayed by the other team.
The Terriers are like the New York Jets. They're good, but they aren't that good. And they got destroyed by a nearby rival over the weekend. They need to stand back up, tweak a few things and try again. (This analogy isn't perfect, though. Jack Parker is not Rex Ryan. Thank God for that.)
There is hope for this team. Some day soon, they will be a great team. I do not think this. I know this. Most of these underclassmen have already been drafted by NHL teams. And two of the players who have stood out the most so far this season have been forwards Sahir Gill and Charlie Coyle, two of the team's eight freshmen. Add those eight to nine sophomores on a roster of 26, and that is a very high percentage of young blood. They will find their skates, though, sometime in the future. I have faith in that.
There are still two scheduled games to be played against that university in Chestnut Hill, and maybe, just maybe, BU can catch some lightning in a bottle and win one or both of those games. Before then, it needs to develop as a team.
Like any longtime Red Sox fan, I'm used to hearing the words "Maybe next year." Thankfully, fans at Fenway have had some time off from that phrase in recent years. Now, it seems appropriate that the saying cross the Mass Pike and head up Commonwealth Avenue. "Maybe next year" is the best way I can think of to describe this team. No, I take that back. "Definitely next year, maybe even later this year. Maybe."
Until then, I'll be on the ledge.