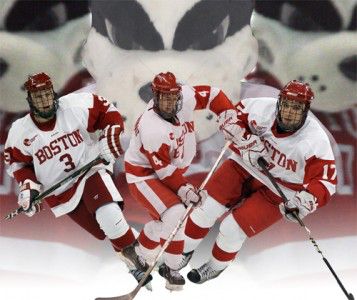 Following Tuesday's practice at Agganis Arena, a Daily Free Press writer went up to No. 7 Boston University men's hockey coach Jack Parker and asked the bench boss a question about how he thought the Terriers are moving on from their home-and-home series against rival No. 3 Boston College just four days earlier.
"What? The debacle?" Parker retorted.
That is precisely what BU will be looking to avoid a repeat of when it takes on Northeastern University at Agganis Wednesday night. The two teams are set to face off at 7 p.m.
Parker noted that the Terriers (7-3-5, 5-3-4 Hockey East) seem to doing their best to put their disappointing performance against the Eagles in the rearview mirror, especially considering the pair of losses dropped them from the top spot in the conference to third behind BC and No. 4 University of New Hampshire.
"I thought yesterday's practice was good and upbeat. I thought today's practice was good," he said. "Sometimes that type of game against that opponent can really get you demoralized, but I think they know that they have to play better. They know they're in the middle of the pack now, and that it's time to climb back up again."
The Huskies (3-8-4, 3-5-3) are trying to begin their own ascent of the conference rankings following a much more successful home-and-home series of their own against No. 17 Merrimack College. Each road team took away the win, but the Huskies' 2-1 victory at North Andover Saturday was the more impressive of the two considering the Warriors had entered the game on a five-game unbeaten streak at home.
"Anybody who can go to Merrimack and beat Merrimack at Merrimack is an awful good team," Parker said. "They're coming off a huge win for them in such a difficult place to win. Not too many people have been able to do that. I bet they're playing with a lot more confidence."
Although that win was just the Huskies' third of the season, they have boasted one of the better defenses not only in the conference but also in the nation. Northeastern's 2.40 goals-against average is tied with UNH for third-lowest in HE and 13th-lowest in the country.
Perhaps the most amazing part about that statistic is the fact that the Huskies defense is incredibly young. Four of the team's six blue-liners to see action Saturday were freshmen, including 6-foot-7, 240-pound Jamie Oleksiak who was named to the United States preliminary roster for the World Junior Championships Monday, with the other two being a sophomore and a senior. As good as the young unit has been performing, it's that relative inexperience at the blue line still hurts it in the eyes of Parker.
"They're a more physical team than BC," Parker said. "They're a good skating team, but nobody skates as well as BC does. They're not the defending national champions."
A big part of the Huskies' successes in their own zone has been the play of sophomore goalie Chris Rawlings. The netminder has allowed three goals or fewer in his last five games – during which Northeastern has gone 2-1-2 – to see his GAA drop to 2.24 and save percentage increase to .931 with the latter good enough for fifth in the country. That means the Terriers go from playing against BC goalie John Muse – the conference leader in both categories – to facing a nearly-as-good Rawlings. However, that's where the comparisons end.
"They're completely different," Parker said. "Muse is a short guy with an acrobatic type of skill, and Rawlings is a big guy who likes to let the puck hit him so they play a different style. Rawlings is a good goaltender, but he doesn't have Muse's numbers in his career yet. He's got a ways to go, but he could be that good, that's for sure."
BU could very well have several power-play chances to put the puck past Rawlings as Northeastern is third in the nation in penalty minutes per game (19.07). Unfortunately for the Terriers, that may actually be seen as a negative. BU has scored on just 11.9 percent of its opportunities with the man advantage this season.
"That's been a focus for the last month," Parker said.
To help stimulate the power play, Parker said he would keep freshman forward Charlie Coyle as the center on the first line alongside sophomore right winger Alex Chiasson and freshman left winger Matt Nieto after moving him up midway through Saturday's loss at Conte Forum. That means junior center Corey Trivino will stay on the second line with freshman Sahir Gill to his left and senior captain Joe Pereira to his right.
Junior goalie Kieran Millan will get a chance to right the ship in net after going through his toughest stretch so far in the 2010-11 season. The Edmonton, Alberta native allowed three goals in the first period of Friday's loss and was pulled during the first intermission. He came back Saturday only to allow five more goals in a full game's work.
For more on the naming of Coyle, Nieto and freshman defenseman Adam Clendening to the U.S. preliminary roster for the World Junior Championship, visit The Boston Hockey Blog.