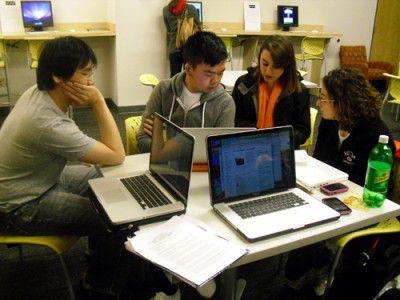 Students cramming a semester's worth of studying into a few nights in preparation for exams may need to reassess their study methods, according to a recent study by TIME.com.
The study states: "being tested is what really helps you retain information–not the hours of cramming."
The study tested separate groups of college students who were given information to either look over once or study repeatedly. The group who was tested after examining the information only once outperformed the group who crammed for the exam.
In a Jan. 20 interview with The New York Times, assistant professor of psychology at Williams College Nate Kornell said that while being tested may seem overly laborious at times, it is the best way for students to retain the information they learn in classes.
"The struggle [of testing] helps you learn, but it makes you feel like you're not learning," Kornell told The Times. "You feel like: 'I don't know it that well. This is hard and I'm having trouble coming up with this information.'"
Some Boston University students said that the study period offered by the university is an effective way to avoid cramming for exams.
"Not really, I had an entire week to study," said College of Arts and Sciences freshman Caroline Thompson. "They were pretty spread out and so I wasn't really stressed out."
Other students said that bad experiences cramming in the past have led them to avoid the practice in the future.
"[Cramming] didn't work for me," said College of Arts and Sciences freshman Rachel Choi. "I think I will definitely cram less in the future."
"I crammed for about half of [my exams]," said CAS junior Teddy Tahrmi. "I wish I studied ahead."
While many students stray away from cramming for finals, some said that cramming for smaller exams could be effective.
"I crammed for cell bio and that worked out, but I don't think it works for language classes," said CAS sophomore Anne Wu. "I don't recommend it.  Words are hard to cram."
The study suggests alternative study methods to cramming so that students can take a different approach to their next exams period.
"If you've ever studied for hours and felt so confident you were going to ace that exam—and then didn't–now you know why," it states. "You should have been doing practice tests instead."