On Friday night, I went searching for a free hat. What I found was a quiet, desolate place.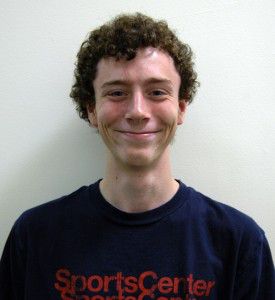 This particular Friday began like the many that came before it and will come after it. Class until noon, a West Burger for lunch, and dinner at 6 p.m. But after dinner, there was a void. The Boston University men's hockey team was on the road, headed north for a weekend series against University of Maine. There were no good movies playing, unless you count a Jason Statham shoot-'em-up a good movie.
I needed something to pass the time. So a friend and I made our way down Babcock Street to the lower level of the Case Center in search of free BU hats in exchange for attending the women's hockey game.
I have to confess: I'd never been to a women's hockey game before. I know from reading this fine newspaper regularly that they are a transcendent team. I knew that last year, they were Hockey East champions, the first time in program history. I knew that they had 19 wins before Friday night, coupled with only two losses and three ties, a record another hockey team at this school should envy. They win games and they win them in style.
But walking into the chilly, dark and cramped confines of Walter Brown Arena, I saw a sight a mere 15 minutes before the puck dropped that I have never seen anywhere else. There was absolutely no one in the stands. Just the pep band playing off in the top of section six, and almost no one else in the plastic chairs and bleachers that fill the seating bowl. A few people, who appeared to be from a youth hockey team, filled a scattering of seats behind the BU bench.
As game time approached, more and more people began to file in, but the old arena still felt empty. The only section even close to full was the aforementioned section six, where the band prepared to rally a crowd that, save for a handful of diehard BU fans, would never appear.
The game itself was hockey at its finest. Entertaining, fast-paced and exciting. Although the Terriers fell behind to University of Connecticut midway through the second period, they rallied and scored two goals in the third to win. It was honestly some of the best hockey I have ever watched. I left the Arena wondering why I hadn't taken the time to walk down there before.
The attendance figure reported Friday night was 414. To someone from the foothills of western Maine, 414 people is a very large group. That's more people than I would encounter in an entire day at home.
To someone living in Boston, however, 414 people is a small group. You probably encounter this many people in your 100-level lecture. That number is astronomically low, especially for a team that is ranked No. 3 in the nation.
The average number of people who attend a BU women's hockey game is 291. Subtract the home opener against Wayne State University, an event 817 people witnessed, the average drops to 251.
Compared to the average attendance of the men's hockey team at Agganis Arena, 414 looks even more paltry. The average draw for the Terriers at Agganis this year is 5,553, more than the total number of people who have come to all of the women's matches combined.
Should we expect those numbers to be close? Well, no. There is a reason Agganis was built, and that reason is the success of the men's hockey team. But why can't we give more attention to the women's team, a team that doesn't see a tie as a solid alternative to winning? And why can't we give more love to other deserving sports, such as men's and women's basketball? Sure, neither of those teams are having amazing seasons, but they have played above par.
We hear a lot about Terrier Pride, especially from the Athletic Department. It is time, however, to put our figurative money where our mouths are and show some pride, and not just in the team with the most championships.