As if the No. 14 Boston University men's hockey team needed extra motivation to win the opening round of the Beanpot.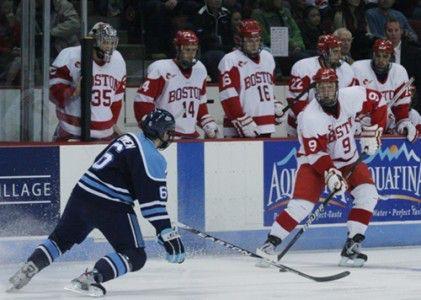 Sure, there is the usual daunting challenge of playing in front of potentially 17,565 fans with city bragging rights for an entire year on the line.
This year, however, as happens once every three years, BU has the reigning Beanpot champion, reigning national champion, top-ranked team in the nation and obvious tournament favorite all rolled into one as its opening-round opponent. That foe also happens to be its hated rival: No. 1 Boston College.
The Terriers and Eagles will square off for the fourth time this season on Monday for a tentative 8 p.m. start at the TD Garden.
As big a prize as it would be for BU (13-7-7, 10-5-5 Hockey East) to defeat BC (19-6-0, 15-5-0) for the first time in four tries this season, the Terriers insist that the bigger reward Monday night would be to simply play for a trophy and a place in the Garden rafters.
"I think just beating BC is always a motivation," said BU coach Jack Parker. "This year, we'd like to get to the Beanpot final. But most important thing is we'd like to get a 'W.' We're looking to play with one of the best teams in the nation."
"It doesn't matter who you're playing," said senior captain Joe Pereira. "You want to get to the Beanpot championship."
Still, the Terriers will have to overcome their earlier-season struggles against the Eagles if they are to achieve their ultimate goals over the next two Mondays. BC trounced BU by a combined 14-7 score in a home-and-home weekend series back in early December.
In the last game of the conference season between the two teams on Jan. 21 – the Beanpot games are considered out-of-conference – the Eagles jumped out to a 3-0 lead in the first period before a pair of second-period goals by BU closed the lead to one. Despite facing 14 shots in the third, the BC defense, led by senior goalie John Muse, held off the Terrier attack for the Terriers' second 3-2 loss of the week.
"We can control one thing: 'Can we play a good game?'" Parker said. "That's what we can control. I don't think we have to play a great game. We just have to play a good game and at least give them a different BU team than they've seen so far."
On the other hand, Pereira believes the team's troubled past against BC should remain in the past and that Monday will present a whole new set of circumstances.
"Throw that out the door," Pereira said. "We're playing a playoff hockey game. It's a one-game series."
If the Terriers are to be successful in that one-game playoff, their freshmen will have to play as well as they have all season despite it being their first appearance on the biggest stage in Boston college hockey. The freshman classcollectively leads BU in points among its four academic classes with 73 combined points.
"Freshmen usually have a hard time right off the bat, first time in a 15,000-seat arena," Parker said.  "We depend so much on our freshmen this year that they better be OK. I think they will be."
At the other end of the spectrum, Pereira will be playing in his last Beanpot and potentially his last game against his team's rivals from down the street. But don't expect his coach to use any of that as extra motivation Monday night.
"I don't want Joe to ever be more jacked than he is for any BC game," Parker said. "It's hard to be your last time out. We'll see how that plays out for him. He's getting a lot of ice time for us. He's our leading goal-scorer. He's having a terrific senior year. It will be nice for him to get this W to get himself a Beanpot title."
In the bigger picture, a Terriers-Eagles matchup in the first round represents an interesting conundrum, not only for the two teams involved, but also the tournament in general. The two teams have combined for 44 Beanpot titles with Monday's other first-round foes Harvard University (10 titles) and Northeastern University (four) splitting the remaining 14.
"I do think BU in particular and BU and BC together have won the Beanpot too many times," Parker said. "There's too much of a drought for Northeastern and Harvard. If we're in the final, I hope we win, but if we're not in the final, I hope Northeastern or Harvard wins and I'm sure BC feels the same way."
Parker noted that the winner of that matchup may be waving a figurative scarlet-and-white banner as they follow the ebbs and flows of the game following its own.
"I would imagine that the other two schools would be really rooting for us because BC's the odds-on favorite," he said. "It'd be nice for them, whoever's the other finalist, they would probably much rather play BU than BC. So they'll be rooting for us.
"I'm rooting to play the late game [next Monday]. Whoever's playing the late game, I want to play them."