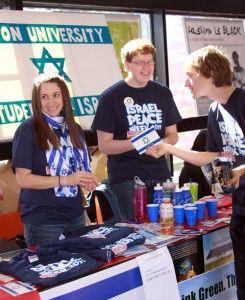 From the environment to human rights, Boston University Students for Israel members have used different themes to "showcase Israel's dedication to peace" for Israel Peace Week.
The week will feature a series of lectures and events in support of peace in Israel and the Middle East.
"I believe that this week is important for students to engage in because we are here to educate," said BUSI co-president and College of Arts and Sciences junior Rachelle Rubin in an email.
"Israel is the only partner the U.S. has in the Middle East with a complete dedication to the same values," she said. "I don't think most students realize how parallel the values and democracies of the United States and Israel are."
School of Education senior Arielle Adler, who helped think of the idea for Israel Peace Week, said the BUSI's goal to show students the "different things that Israel does that the world needs."
Daryl Temkin, the founder of the Israel Institute, kicked off Israel Peace Week on Tuesday by giving a lecture emphasizing Israel's environmental efforts at the Hillel House.
Temkin stressed the importance of ending the United States' dependency on foreign oil and adapting alternative energies, such as solar power and wind energy.
"Energy is a major thing in reference to peace," he said. "The United States spends about $700 billion on foreign oil."
Temkin said that the affect of dependency on foreign oil runs deeper than United States foreign policy.
"We are probably about 35 percent dependent on countries who hate our existence for our oil," Temkin said. "The impact of that on our lives can be dramatic."
Temkin connected the development of cars to Israel's investments in alternative energy. Henry Ford, Temkin said, wanted cars to be electric because he thought there was not enough oil in the world.
Temkin said Israel realized it could not become dependent on foreign oil coming from hostile countries, and has begun to focus on environmentally friendly energy sources.
"All the major solar energy facilities in California—and California is the leading state of the United States for solar energy—all built by Israeli companies," he said.
Temkin noted the benefits of other environmentally friendly technologies that originated in Israel, including drip irrigation, solar water heaters and silently spinning windmills.
Tuesday's theme focused on Israel and the environment. From 11 a.m. to 2 p.m., BUSI members were in the George Sherman Union, offering students the opportunity to plant a plant for free.
Adler said BUSI sold T-shirts to raise money for the Israel-based organization Save a Child's Heart, which performs heart surgeries on children around the world.
Upcoming Israel Peace Week themes include human rights and technology.