Saturday night was the kind of effort Boston University men's hockey coach Jack Parker had been waiting for from his team. No slow start. No letting up after getting the lead. No lulls in focus that led to costly mistakes. No stupid penalties. The Terriers came out strong and sustained that level of play all game long en route to beating University of Vermont 3-1. They finally put together a 60-minute effort.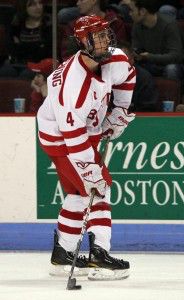 "I thought it was really a thorough game," Parker said. "We talk about progress, not production, and that was close to being as sharp as you can be for 60 minutes. I thought we played extremely well in all three zones.
"I thought we played smart with the puck and even smarter without the puck. A bunch of guys had great nights. Everybody played well. There wasn't a guy who had an off night."
The Terriers (17-9-8, 14-5-6 Hockey East) completely dominated the first period, outshooting Vermont, 16-5, and possessing the puck in the offensive zone for entire shifts at a time. At the other end of the ice, they were able to quickly turn back the Catamounts (7-18-7, 5-14-6 HE) whenever they entered the BU zone.
Despite the lopsided play, the game remained scoreless heading into the first intermission. Vermont goalie Rob Madore (31 saves) bailed his team out several times with some huge 1-on-1 stops. The one time he did get beat, junior forward Chris Connolly missed an empty net.
Parker said he knew his team was playing great, but that he told his players between periods that they would have to be even better.
"I said to them, 'Hey guys, I hate to tell you this. I could come in and say you can't play much better, but I'm going to tell you you're going to have to play better because we didn't get a goal.' And they went out and kept going."
The Terriers continued their strong play in the second and it finally paid off midway through the period. Connor Brickley gave BU a five-minute power play when he earned a game misconduct for hitting sophomore forward Wade Megan from behind, and the Terriers made Vermont pay for his lack of discipline.
Three minutes into the man advantage, freshman forward Sahir Gill circled to the net from the right side and drew two defenders before sliding a pass over to Connolly in the slot. The co-captain redeemed himself for missing the open net earlier by snapping a shot into the top left corner for his first goal since Jan. 15.
"It's kind of a monkey off my back, I guess," Connolly said. "I've been a little snakebitten as of late. After that open net there, it's hard not to get frustrated. You wonder if anything's ever going to go in ever again. It was good to finally see one hit the net."
Seven minutes later, BU struck again. Freshman defenseman Adam Clendening sprung sophomore forward Alex Chiasson on a breakaway with a beautiful 100-foot breakout pass from his own end. Chiasson raced in and made a few nifty stick dekes before popping the water bottle off the top of the net with a laser over Madore's glove.
With the assist, his first of two on the night, Clendening now has a five-game point streak and nine points in his last eight games. He's tied for first among all Hockey East freshmen with 23 points (5g, 18a) on the season. He's also tied for second nationally in rookie defenseman scoring.
"He's looking like an All-American defenseman for us the way he's playing right now," Parker said. "He's just playing terrific."
After Friday night's 3-3 tie, a game in which Clendening had a goal, Parker said the biggest change is that Clendening isn't gripping his stick as tightly any more. Parker said that in the first half, Clendening was too worried about making the U.S. World Junior team, from which he was ultimately one of the final cuts.
"He was really putting all kinds of pressure on himself, trying to look real good so he could make the junior team, trying to impress people he thought were in the stands watching," Parker said. "And it really tied him up in knots the first semester. He's not the first guy that's happened to. Once that went by the board, he came back and just started playing hockey. Right now, he's playing fabulous."
Another freshman, forward Matt Nieto, netted BU's third and final goal Saturday night.
The Catamounts earned their second game misconduct of the night when forward Jack Downing leveled freshman defenseman Garrett Noonan from behind and then stood over him screaming.
Four minutes into the ensuing power play, junior forward Corey Trivino had a centering pass picked off, but Nieto swooped in and whacked the puck off Dan Lawson's stick and through Madore's five-hole.
Junior goalie Kieran Millan (27 saves) appeared to be on his way to his second shutout in three games, but Tobias Nilsson-Roos popped a rebound over his shoulder and into the cage with just 4.5 seconds remaining in the game. It marked the fourth time this season BU has lost a shutout in the final two minutes of a game.
"I thought BU played a terrific hockey game," said Vermont coach Kevin Sneddon. "We really didn't have a lot of space out there to make plays. I thought they did a great job of positioning and pressuring. We really couldn't mount any sort of offense against them, whether it was on the rush or in the zone. I thought they did a tremendous job tonight."
Game notes
-BU's three points on the weekend, combined with Maine's sweep of Merrimack, move the Terriers into third place in Hockey East with 34 points. BU can clinch a top-four seed and home ice for the conference quarterfinals with one point against Northeastern next weekend. It can finish as high as second with a sweep of the Huskies and a sweep by either Boston College or New Hampshire in their series against each other.
-The Terriers also moved into a tie with Maine and Dartmouth for 15th in the PairWise Rankings. Based on the Ratings Percentage Index tiebreaker, BU would be the highest-ranked team of that group and would be the last team in the NCAA tournament field.