Freshman defenseman-turned-forward Kaleigh Fratkin of the Boston University women's hockey team makes decisions on the ice in a split second, rarely hesitating or waiting too long to make a move.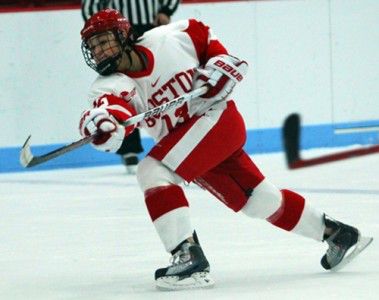 After all, she's used to moving the puck with future NHL prospects bearing down on her, thinking about not only where her pass is going but also how to absorb a potential check into the boards after she releases the puck.
Last season, Fratkin became the first female player ever in the British Columbia Midget Major League, where she suited up for the Vancouver North West Giants.
The MML, the top league for 15- to 17-year-old hockey players in the province, is a stop on many male British Columbia-born players' routes to the NHL. Ryan Nugent-Hopkins, a forward for the Red Deer Rebels of the Western Hockey League who is being discussed as a potential No. 1 NHL draft pick this summer, played for the Giants in the 2008-'09 season.
While girls playing on co-ed hockey teams are relatively common in younger age groups, many switch to all-girls' teams when checking becomes legal in the boys' game – in the 11 to 12 age group in the United States, or 14 to 15 in Canada. Fratkin also played on women's teams during high school through the Canadian national development program, but she stayed with the boys' game through her senior year of high school.
"I started to play boys' hockey ever since I was younger – I have two older brothers, so that's why – and I liked the challenge that it gave me," Fratkin said. "Where I was, there weren't many girls' hockey teams going around up in British Columbia, so it was the competitiveness, and…it's just something I stayed with."
In the 2009-'10 season with the Giants, Fratkin put up seven points, third among the team's defensemen, despite missing 15 games with an injury. She said that while she knew she had to work hard to prove that she deserved her spot on the roster, she never felt alienated or separated from the rest of the team.
"There's definitely that aspect when you're the only girl – as much as you are treated like every other player on the team, there's still that aspect that you are a girl and you do have to prove yourself," Fratkin said. "But I think as a player, whenever you're out on the ice you have to prove yourself, and it wasn't extremely something where I felt like I was excluded from everyone. I was accepted by my teammates, and my coaches accepted me for my caliber of play."
BU coach Brian Durocher said the fact that Fratkin stayed with boys' hockey as long as she did is a testament to her abilities.
"Somewhere around 14 or 15 [years old], kids get separated, male and female, and only certain people can be in there and stay with it," Durocher said. "The bottom line is that it's tough to go much past that 15-year-old age, and she's somebody who was able to do it."
The fact that checking is illegal at all levels of the women's game is the most noticeable difference between men's and women's hockey, and Fratkin's 43 penalty minutes in 34 games – second on the team after junior defenseman Tara Watchorn's 46 – show that the adjustment to a less physical game is not always seamless.
"She's not afraid of bumping and banging out there," Durocher said. "Probably she's taken a couple penalties we'd like to get back this year, but I think you'd rather have that innate strength and toughness in somebody than to have to try to instill it, despite the fact that there's no checking. The rink gets awful small when you have to go score a goal or defend your net and certainly play along the wall, so to have somebody who's strong and likes to be there is an important part of the game."
Despite the penalty trouble, Fratkin is also a plus-14 and ranks second on the team with 20 blocked shots. She said that playing boys' hockey for as long as she did, particularly at the Midget AAA level with the Giants, was beneficial to her game on several levels.
"I think that because of the caliber of players I was playing with, it pushed me to be fast, smarter, quicker, to make my decisions a lot quicker, and it definitely helped improve my game, playing with a high caliber of play," Fratkin said.
Although she entered the program at BU as a defenseman, Durocher said Fratkin's versatility was part of what led him to recruit her.
"Kaleigh, prior to coming here, was somebody who excelled on the Canadian under-18 team twice, and, interestingly, at two different positions," Durocher said. "One year as an underage player she was selected as a forward, and then at her more traditional position of defense, she was somebody who was very accomplished there as well and then in her 17-year-old year played [as a defenseman] as well. Anybody who's that highly recognized by Hockey Canada, any national team, is somebody who clearly brings a lot of skill and a lot of talent to the game."
When freshman forward Marie-Philip Poulin and sophomore forward Taylor Holze went down with injuries on Feb. 3 and Feb. 5, respectively, Durocher chose Fratkin to fill in as a forward, often on the top line. Although she didn't yet have a goal as a defenseman, her prior experience made her a logical choice.
"I loved it," Fratkin said of the position change. "I've played forward previously, in the previous years, and it was definitely a great opportunity. It's pretty flattering when a coach tells you that you have that opportunity as a defenseman to go play forward – lots of [defensemen] like to get involved in the offensive play. I was really happy in whatever role I was given, and more than happy to take that position."
Junior defenseman Kasey Boucher, who was Fratkin's defensive partner for several games earlier in the year, said the freshman fit in with the team immediately, and that their playing styles complemented each other from the start.
"I think we worked well together because I'm more of a stay-at-home type of defenseman, and she's more offensive and so we just kind of blended well," Boucher said. "Whenever I wanted to jump up she would cover for me, so I guess we just meshed well as d-partners."
Fratkin scored her first collegiate goal on Feb. 11 against Northeastern University, playing on a line with junior forward and leading scorer Jenn Wakefield and senior forward Jillian Kirchner. If Poulin and Holze return for the playoffs, as Durocher has said they are likely to do, Fratkin will be back on the blue line, where she's made an impression despite being part of a recruiting class that includes Olympians (Poulin and graduate student defenseman Catherine Ward) and some of the top players in college hockey.
"I think because there's some pretty high-profile players here, she's gone under the radar a little bit, but she's doing a fantastic job most of the year on defense," Durocher said. "She's somebody who's an effortless skater. She can log a lot of minutes, clearly is a one-person breakout when she's on her game, and I think she can defend some of the best players in the game, because she does have agility, she does have balance, and has the strength to handle some of the best players."