As bedlam ensued at Agganis Arena Saturday afternoon and fans stormed the court to join his players in celebration, Boston University men's basketball coach Patrick Chambers climbed onto press row and pumped his fists in the air.

BU coach Patrick Chambers celebrating after winning the team's first America East championship since 2002. MICHAEL CUMMO/Daily Free Press Staff
Wearing his championship cap, Chambers yelled out a slew of words to the crowd still in its seats and savored the historic moment in jubilant fashion, as BU had claimed its first America East conference title since 2002 with a thrilling 56-54 win over Stony Brook University in front of 3,845 fans at The Greek.
The second-seeded Terriers (21-13) wouldn't have earned the America East's automatic bid to the NCAA Tournament if it weren't for the heroics of their lone senior and star player John Holland down the stretch.
The 6-foot-5 forward from the Bronx, N.Y., poured in a game-high 27 points – 23 of them coming in a scintillating and dominating second-half performance – and sunk two go-ahead free throws with 2.4 seconds left in regulation, helping BU secure its seventh overall appearance in the Big Dance.
"I'm really proud of this group," Chambers said. "They worked hard and that's something that we talked about, keeping a great attitude. Hardest working team in the country and they really displayed it today. To only take the lead with two seconds to go is not how I drew it up, but I'll take it."
"It's amazing," Holland said when asked how it felt to cap off his illustrious career with a conference crown. "Couldn't ask for anything more. It was a great experience here, and it's not over yet. We just gotta keep this going as long as possible. BU has been wonderful to me."
Early on, the Terriers, who entered the championship bout against the fifth-seeded Seawolves (15-17) on a 10-game winning streak, seemed fazed by the magnitude of this occasion, missing their first seven shots from the field. Freshman guard D.J. Irving knifed through several Stony Brook defenders and converted the lay-in at the 6:22 mark to register BU's first two points of the contest.
Up 5-2 following Irving's bucket, the Seawolves went on a 10-1 run to extend their advantage to 15-3 after guard Dave Coley buried a 3-pointer from the top of the key. Junior guard Darryl Partin, who finished with 12 points, answered on the Terriers' next possession with a bank shot for BU's second made field goal of the game.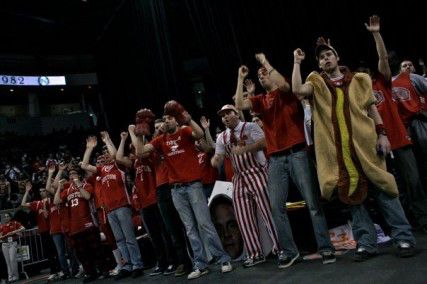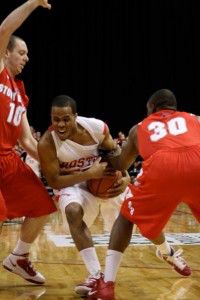 After a pair of free throws from Irving, the Terriers pulled within six with 4:01 to go. But guard Leonard Hayes, the Seawolves' leading scorer on the afternoon with 14 points on 5-of-14 shooting, responded with a trey to give Stony Brook a nine-point edge.
Holland grabbed one of his game-high 11 rebounds after freshman forward Dom Morris came up empty on a wide-open 3-pointer, and turned the offensive board into a fall away baseline jumper for his first basket of the game at 18:02.
A nonfactor for much of that first half, the Tournament's Most Outstanding Player didn't allow his sluggish start affect his mindset.
"I knew I had to be aggressive because that's my game," Holland said. "It's to be aggressive and go out and make plays. I really didn't think about [the slow start]. I tried to let the game come to me, and it worked out."
Junior center Jeff Pelage brought the Terrier faithful in attendance to its feet with a thunderous one-handed putback slam off an Irving runner to trim the Seawolves' lead to 27-23 at the 19:30 mark.
With only three seconds remaining in the half, guard Bryan Dougher (12 points) stuck a triple well beyond the 3-point arc to quiet the crowd. Irving's 70-foot heave clanked off the front iron as the halftime buzzer sounded, and Stony Brook headed into the intermission with a 30-23 lead.
Despite recording zero assists and shooting 22.2 percent on 6-of-27 from the floor in the opening period, including 0-of-10 from 3-point territory, BU found itself trailing by just seven points.
"Seven-point lead means nothing," said Stony Brook coach Steve Pikiell. "We wanted to play great for 20 more minutes. Defensively, we wanted to keep them off the free-throw line. We harped on it. We harped on it for a week. We harped on it at halftime. We harped on it, and we really weren't able to do that."
Dougher came out of the tunnel and drilled his second consecutive triple just 10 seconds into the second half. Junior center Patrick Hazel added 1-of-2 from the charity stripe on the ensuing possession, but Dougher and senior guard Chris Martin combined for 10 points in a two-minute span to extend Stony Brook's cushion to 41-26 with 16:47 to play.
Then Holland simply took over and put the Terriers on his back.
The 2010-11 America East Player of the Year scored 14 straight points for BU on a pull-up jumper, a layup, a breakaway bucket, a triple, another lay-in, a breakaway two-handed dunk and a free throw to cut Stony Brook's lead down to 41-40 with 10:31 remaining in the final session.
"That stretch he just had in the second half where he literally took over the whole game and went on a one-man wrecking crew, I don't think I've ever seen anything like that," Chambers said. "That was pretty amazing."
With the Terriers down 54-50, a double-teamed Holland became a facilitator and dished the ball to an open Morris, who converted the easy layup. A minute later, Holland knotted the ballgame at 54 with two freebies with 1:03 left.
After Pikiell had called a full timeout to draw up a play for the Seawolves, Dougher drove into the lane and had the ball ripped out of his hands by Holland. The possession arrow pointed the Terriers' way following the held ball.
Irving fed a nifty backdoor pass to Holland, who took one dribble and was fouled near the right baseline by forward Dallis Joyner with 2.4 ticks on the clock.
When he heard the referee's whistle, Pikiell thought Holland may have traveled.
Holland disagreed. Sort of.
"I don't think I traveled," Holland said. "I haven't seen [the replay] but who knows? It was fortunate. It worked out for us."
Holland calmly stepped up the line and drained his ninth and 10th free throws to give BU its first lead of the whole contest at 56-54. Dougher's halfcourt chuck bounced off the rim as time expired and the celebration began on the Agganis floor.
Unlike yesterday's game, the only drama that Selection Sunday will hold in store for the Terriers is their NCAA Tournament foe and destination.
"The NCAA Tournament is something special,'' said junior guard and tri-captain Matt Griffin. "It's something I've been watching since I was little. I would run home from school just to see the first round. My brother played in it for two years and I was fortunate enough to watch him. It's something special and I'm grateful for the opportunity to be in it now.''