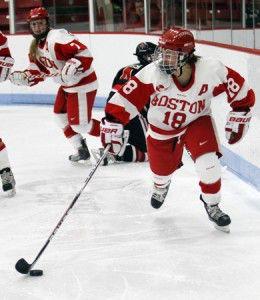 Senior forward Jillian Kirchner was at a loss for words. Upon beating Cornell University 4-1 and advancing to the NCAA championship for the first time in the history of the Boston University women's hockey team, Kirchner couldn't quite explain what made this group of players so special.
"It kind of started with last year – last year we won Hockey East for the first time, and it just seems like throughout my four years we've taken that step higher each year," Kirchner said. "One thing that's really unique about our team is we are a team, we've got each other's backs, and I've never been on a more…I don't know how to put it, but we are a team, and I think that's what's causing us to be successful, and representing our league in the national championship is just huge for us."
No Division I women's hockey team based outside of Wisconsin or Minnesota has ever won the national championship. Cornell reached the finals last year, but lost to University of Minnesota-Duluth in triple overtime. On Sunday, when the Terriers play top-seeded University of Wisconsin, who defeated Boston College, 3-2, in the other semifinal, this is the historical precedent they will face.
On Friday, BU didn't look intimidated by precedents, seeds (they were seeded No. 3 to Cornell's No. 2), or the fact that Cornell had posted the best team defense statistics in the nation this year, allowing just 1.11 goals per game. The Big Red got on the board first, scoring just over five minutes into the first, but graduate student defenseman Catherine Ward answered five minutes later, sending a slap shot through at least seven players in front of the net that Cornell goalie Amanda Mazzotta barely had a chance to see.
The score remained deadlocked, 1-1, until late in the second period, although the Terriers appeared to hold the edge in puck possession. But when Kirchner slid a rebound past Mazzotta at 17:47 of the second, putting BU ahead 2-1, the Terriers stormed off the bench on their next shift and never looked back.
Junior forward Jenn Wakefield took an outlet pass from linemate Jenelle Kohanchuk in the Terriers' zone and tore down the ice, maneuvering around one Cornell defender, then another to set up Kohanchuk in the slot. Kohanchuk made a quick move from her forehand to her backhand and flipped the puck over Mazzotta.
After that surge late in the second, BU had the luxury of spending the third period on the defensive, waiting in the neutral zone to prevent Cornell from carrying the puck toward Sperry and, every time they picked off a Big Red pass, dumping the puck back into their offensive zone, forcing Cornell to regroup. They wore down the Big Red, who took seven shots in the third period and only 15 in the entire game, and senior forward Holly Lorms capped off the victory with an empty-net goal with less than three minutes to go.
"I'm unbelievably humbled and proud to be that person, or be the coach of that team…I think we as a team are real proud of what we've accomplished, getting to the championship game," BU coach Brian Durocher said. "I have to give a shout-out to our league, because four or five years ago there was just a handful of schools that really had support, and Boston University, Boston College and Vermont in the last couple of years have put a lot of resources into the teams, so thanks to those schools' administrations.
"And the teams that have been prominent over the years, Northeastern, New Hampshire, et cetera, are continuing to grow, and I think you base that on people that are playing in the league. If people like Jenelle and Jillian are there, and this year we get a shot in the arm, obviously, with Marie-Philip and Catherine Ward that have played in Olympic games and Jenn Wakefield who's been in this tournament [in 2008 with UNH], I hope we're doing something right, not only as a team, but as a league."