On Tuesday, the Boston University softball team lost a closely contested home opener to Harvard University, 2-1.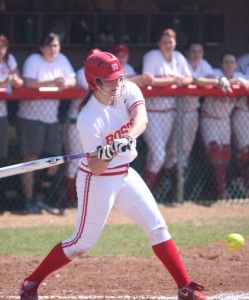 Harvard (9-8) ace pitcher Rachel Brown shut down the Terriers (12-8) by pitching a perfect final three innings while striking out seven for her first save of the season. The save secured the win for Harvard starter Laura Ricciardone (2-3), who went the first four innings and gave up one run on two hits and two walks.
"The first kid they threw [Ricciardone], we've never seen her, but I thought we got some better swings on her," BU coach Shawn Rychcik said. "I know Rachel Brown is pretty good. She's been there a few years, we've seen her, we've had some trouble with her, and we've beaten her. It's been back and forth. She's been throwing the ball pretty well against good competition."
The Crimson jumped ahead early when outfielder Stephanie Regan lined a one-out double to left field to start a small rally. She came around to score two batters later when first baseman Whitney Shaw beat out an infield single, but BU sophomore pitcher Whitney Tuthill snagged a comebacker off the bat of catcher Allison Scott to end the threat.
Both teams would continue to get runners on base throughout the next three innings, but the score remained 1-0 until the bottom of the fourth. BU's best early chance to score came in the bottom of the second when freshman catcher Amy Ekart doubled to right center to lead off the inning. She later reached third base, but was thrown out at home on a fielder's choice to the third baseman.
Sophomore Erin Schuppert relieved Tuthill on the mound to start the third inning, finishing Tuthill's day with a line of two innings pitched, one earned run and one strikeout.
BU tied the game in the fourth when freshman shortstop Brittany Clendenny drew a walk to lead off the inning, and was quickly replaced by junior pinch runner Kayla Kruper. Kruper then advanced to third on Ekart's second double of the game and scored on third baseman Megan Volpano's groundout to knot the score at one.
But on the very next batter, a rundown resulted in Ekart being thrown out at the plate for the second time in the game.
"They weren't problems," said Shawn Rychcik of the plays at the plate. "That's how we're going to play. We're going to play aggressively, and make them come up and make throws. We need to do a better job of maybe getting a fly ball in those situations."
The tie would not last long, though, as Harvard's offensive leaders – second baseman Ellen Macadam and third baseman Kasey Lange – teamed up to put the Crimson back on top. Macadam led off the inning with a single, and Lange, Harvard's RBI leader, drove her in with a triple two batters later.
Freshman Holli Floetker pitched the last two innings for BU, holding Harvard at bay with just two hits and no runs, but Schuppert (4-1) was tagged with the loss when the offense could not muster a comeback against Brown.
Rychcik said the plan from the beginning was to get all three pitchers – Tuthill, Schuppert and Floetker – some work, because this is the only game for the Terriers all week. None of the pitchers were hurt, though BU's fourth pitcher – senior Kelley Engman – had a chance to get in the game until she got sick today.
"There was really no planned sequence. It's just the way it worked out," Rychcik said. "I didn't want it to be one person getting five, six, seven innings, and the other two not having any work."
Often this season, the team has had problems having its pitching, defense and offense rolling on all cylinders at the same time, and that problem rang true on Tuesday. Rychcik said that he was satisfied with the pitching and defense, but held the offense responsible for not performing at its best.
"We've faced better pitching, and we will down the road," Rychcik said. "I think pitch selection [can improve]…We have to make sure it's a pitch you can drive, not just a pitch you can put in play."