With 2:14 remaining in Game 3 of the Hockey East quarterfinals, Northeastern University's Wade MacLeod took a pass on the left wing and wristed a shot into an empty net to give the Huskies a 5-2 lead. Boston University sophomore forward Alex Chiasson promptly smashed his stick over the crossbar of the vacant cage, knowing that the Terriers' season was likely over.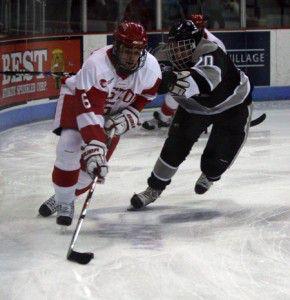 Sure, BU managed to score two goals in the final 1:22 to make things at least somewhat interesting. And sure, there were still scenarios that could've unfolded the following weekend that would've moved the Terriers up in the PairWise Rankings and gotten them into the NCAA tournament. But for all intents and purposes, MacLeod's empty-netter was the death knell for BU's season.
The 2010-11 campaign was full of first-time-sinces, and none of them were good. The Terriers finished last in the Beanpot for the first time since 1980. They failed to reach the Hockey East semifinals for the first time since 2001, ending the longest streak of semifinal appearances in conference history.
Most importantly, BU failed to qualify for the NCAA tournament for the second straight season, marking the first time that's happened since it missed the big dance three years in a row from 1987 to 1989.
The strongest link between these last two seasons has been a dearth of 60-minute efforts. Much like last year, BU repeatedly took off portions of games, and sometimes even entire games.
"I think last year we were full of ourselves and we were still relishing what happened the year before," BU coach Jack Parker said, referencing the team's national title in 2009. "We thought it would be easy and didn't get prepared, really for the whole year.
"There was a similar M.O. with this team in that the recurring theme for the last two years has been unwillingness and inability to get focused and get ready to play all the games, get ready to play 60 minutes."
The evidence to support that is overwhelming. On Dec. 3, the Terriers watched Boston College skate circles around them for two periods and take a 6-1 lead into the third en route to a 9-5 trouncing. Eight days later, the only fight they showed in a 4-1 loss at Rensselaer Polytechnic Institute came in the form of 15 penalties, including four game misconducts.
The Terriers started the new year with arguably their worst game of the season, a 6-1 embarrassment at the hands of Brown University in the first round of the Shillelagh Tournament. The next night, they played much better for most of the game against University of Notre Dame, but then they blew a two-goal third-period lead — including giving up the tying goal while on a power play — and had to settle for a tie.
The most memorable collapse came in the Beanpot consolation game, when the Terriers let an offensively inept Harvard University team score twice in the final 4:03 to win 5-4. Eleven days later, BU watched a 3-0 third-period lead turn into a 3-3 tie against the University of Vermont. And then, of course, the Terriers lost three of their last four games, all to Northeastern.
"Harvard, Brown, RPI…win one or two of those games and we're in the national tournament," Parker said. "Notre Dame, we've got the game won and then we let it slip away to a tie when we let them score on a shorthanded goal with two minutes to go.
"Losing the Beanpot consolation game. It's a consolation game, it doesn't mean anything to Harvard. They weren't going to the national tournament. We're on the verge of making the national tournament and that game killed us. Not knowing that and not having the ability to make sure we're ready to play 60 minutes in that game was a recurring theme.
"I can't say, 'How can we not be ready for the final Northeastern game? That's a surprise.' No it isn't, because that's what we did all year. The Northeastern game was the most pathetic game we played all year considering what was at stake, and it is not surprising that we played with so little fervor and so little intensity."
Last year's inconsistencies were blamed on a season-long championship hangover and poor leadership. There was obviously nothing to be hungover from this year, though. And from all accounts, the leadership, especially from the captains, was very good this season.
"I don't think there was a void in leadership," Parker said. "I think Joey Pereira gave us a great senior year for himself personally, and he really worked hard on the ice and was a good example. I think Chris Connolly did a real good job as far as vocalizing and trying to keep kids on the right track. I think David Warsofsky was better in what he was saying than what he was doing sometimes, but he was sincere in what he was trying to get these kids to do."
One problem, however, was that there wasn't enough of that outside of the captains. Only one other everyday skater — junior center Corey Trivino — was an upperclassman. On any given night, 13 or 14 of the Terriers' 18 skaters were freshmen and sophomores.
"It can't be just the captains," Parker said. "Matt Gilroy and Johnny McCarthy were the captains [in 2008-09], but there were a lot of seniors on that club who were hungry and wanted to make sure they went out the right way. There was only one senior this year."
Although it's true that this was youngest team in terms of class year that Parker has ever coached, youth alone doesn't explain why BU had a disappointing season. In fact, the freshmen were anything but disappointing on the ice. Forwards Charlie Coyle, Matt Nieto and Sahir Gill and defensemen Adam Clendening and Garrett Noonan all had very good to great rookie seasons.
The bigger problem, according to Parker, was attitude — that inability to get ready to play. Parker said being young doesn't excuse that.
"We always say attitude is everything," Parker said. "The attitude this year was in and out. You can say, 'Hey, we're young, we're young, we're young.' Yeah, but it was still in and out, and that's something that's of concern."
So where do those attitude problems come from? Parker said all season that the team had very good practices. Usually when you practice well, you play well. So if it's not bad captains and it's not bad practices, and youth is only part of the problem, there must be another answer.
The most obvious one is coaching. Parker has one of the greatest resumes of any coach in college hockey history, but he admitted that there was a lot he could've and should've done differently this year.
"We maybe didn't run the right practices, didn't do it the right way," Parker said. "There weren't too many days I said, 'These guys aren't working hard.' They didn't work physically hard enough because we didn't put that in the practice enough. There wasn't much competitive stuff in the practices. We were working more on skills stuff. We were a little concerned about how we approached it because we were working with so many young kids. We wanted to make sure we didn't scare them off a little bit."
Parker said that in retrospect, harder and more competitive practices — which had been commonplace during his tenure prior to this season — probably would have helped raise the team's compete level and, in turn, led to a more sustained effort in games.
Another area where Parker has regrets is the power play. The man advantage was an Achilles' heel for the Terriers all season. They hovered around a dismal 11- or 12-percent conversion rate for much of the season before a pretty good finish (21.7 percent over the final 10 games) pulled them up to 14.9 percent on the year. But even that was still only good enough for 47th out of 58 teams nationally.
For most of the season, the power-play strategy was less structured than it normally would be under Parker. He basically let guys do what they felt comfortable with and gave them the freedom to adjust on the go. The idea was that because so many underclassmen were going to see significant power-play time, it would be easier to allow their skill and instincts to take over rather than try to teach them a new system and then confine them to that.
Needless to say, it didn't work. At least not until it was too late.
"I'd change a lot of things looking back on it, to tell you the truth," Parker said. "One of the things that happened was because we had some skill guys, we played on the periphery. We were looking for the right play, the right pass, instead of just getting the puck to the net and scoring a goal at the crease. Now, you can't score a goal at the crease if nobody's there, and we had a lot of guys who were, 'Hey, I'm over here,' instead of being where they should be.
"What should've happened when we were down to nine percent on the power play is I should've gone with [Ross] Gaudet and [Wade] Megan and Justin Courtnall. Justin Courtnall should've been standing out front. He'd screen the goalie and make sure there was a mess out there and try to get a rebound. So that type of stuff was overlooked.
"It was a matter of too many guys playing laissez-faire, playing casual and not having to make sure we get a goal. And that falls on my shoulders more than their shoulders. They shouldn't have been allowed to continue to be out there if that's what was going to happen."
As the saying goes, hindsight is 20/20. It's easy for Parker to recognize now what changes should've been made during the season. What's important is that Parker and the Terriers make sure the team isn't plagued by those same problems again next year.
With what they have coming back — they only lose Pereira and Warsofsky barring any other early departures, of which none seem likely at this point — and what every other top team in the conference loses, the Terriers will likely be the preseason favorite in Hockey East.
Of course, that means absolutely nothing if the team's attitude and effort are subpar for a third straight season. Parker said he's already taking steps to make sure that isn't the case.
"I think we'll do a lot of things that will be different and demanding more of them in September and through the season," Parker said. "We've already started revamping some of that stuff, so there will be a different look to how we're running things around here next year."
If the changes pay off, there should be a different look to how the season ends, too. If they don't, another disappointing finish could be in store.