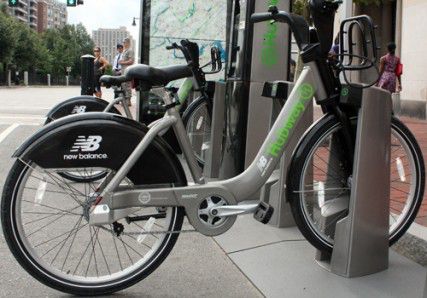 Since the launch of the Hubway bike-share system in July, Boston Police Department and officials say bicycle safety education is becoming a top priority in Boston due to the increased number of cyclists rolling down the city streets.
Before Hubway was introduced, the City of Boston revealed a new bike safety and enforcement plan, said Nicole Freedman, the director of the Boston Bikes program.
"The effort includes spot enforcement of rules of the road for cyclists and vehicles, distribution of helmets, and dissemination of bike safety literature to cyclists," Freedman said in an email. "The emphasis is almost entirely on education."
BPD officials issued warnings to bikers, but have refrained from harsher punishments due to complications with ticketing.
"It is our understanding that the Registry of Motor Vehicles has some administrative challenges pertaining to the collection of fines," said Elaine Driscoll, spokeswoman and director of communications for the BPD, in an email.
Driscoll also said that because there is no system in place yet to punish those who ignore tickets, BPD has issued about 100 warnings and given out 200 bike helmets since the bike-sharing system kicked off.
BUPD also partnered with the BPD and agreed to issue more warnings and promote bicycle safety.
"It's a joint effort between the city and Boston University," said Scott Paré, the deputy director of public safety at BUPD.
Paré agreed that the main goal is to educate and warn the bikers for their own safety.
"I don't know how many bikes the Hubway system is going to add to BU's bikers," Paré said in a phone interview. "Certainly we don't mind an increase in number of bikes, we just want to make sure they stay safe and abide by the rules of the road."
MassBike and the City of Boston have recently launched a series of Hubway Bike Safety Workshops around the city geared toward Hubway users who are not likely to be expert cyclists.
Because of the city's vast efforts to educate Boston bikers about safety, Freedman said that Boston will benefit from the amount of bikes that Hubway will potentially add.
"Studies in other cities show that bike share users are in far fewer accidents than regular cyclists," she said. "There are great statistics showing that when more cyclists are on the roads, the roads are safer for all users."
Some BU students said they believe that ticket distribution is too harsh a penalty for cyclists in the city.
"Instead of handing out tickets, positive reinforcement should be more effective in promoting safe biking," said Pete Wright, a junior in the College of Engineering.
Other students said that warnings might not help the bicycle safety situation.
"I don't know how effective just giving warnings would be," said College of Arts and Sciences freshman Nicole Venguer. "Maybe more so at BU, but less so in the city."
The Hubway currently has 61 stations and has added 600 bicycles to Boston neighborhoods.