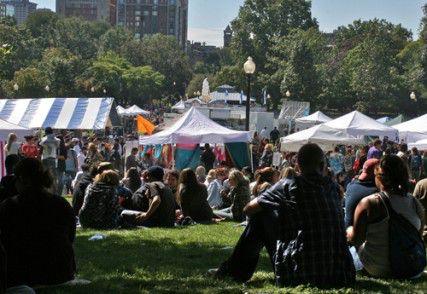 Thousands of pro-marijuana Bostonians attended the 22nd annual Freedom Rally, commonly known as "Hempfest," on the Boston Common Saturday afternoon to listen to live music and protest for federal legalization of marijuana.
Since cannabis was decriminalized in Massachusetts in 2008, making it illegal to arrest anyone carrying up to one ounce of marijuana, Hempfest has served both as a celebration and a rally against federal prohibition of the plant.
This year, the Common hosted 21 musical acts and booths of organizations such as the Mass. Cannabis Reform Coalition, Mass. Libertarians and Water Pipes by Vortex.
"Be brave patients and patriots and fight for the return of our freedom to choose cannabis. It's not easy, but achieving freedom never is," wrote D.J. Stone, editor of the magazine "1000 Watts," in a special edition about Hempfest that was handed out at the rally.
As attendees smoked marijuana during the five-hour festival, Boston Police monitored the Common.
"We're here to ensure public safety for the crowd," Boston Police Deputy Superintendent Kelly Nee said in an interview. "Historically, we've never had a lot of problems."
Police officials and state troopers did not attempt to fine anyone who was smoking on the Common, but some pro-marijuana advocates said they still resented seeing law enforcement.
One such protestor, who identified himself as Mike D., held up a sign stating, "Political Criminals/Police are Outlaws."
"They don't know what our rights are," he said in reference to the crowd at Hempfest. "Marijuana is arbitrarily classified as a drug. I'm sure the government's got a watchful eye on me."
Steven Epstein, founder of the Mass. Cannabis Reform Coalition, an organization that promotes cannabis as an ecological, recreational, spiritual and medical tool, said he is also working to repeal prohibition of marijuana.
"We want to raise money and awareness," Epstein said. "Most people are here to enjoy the sunshine and look at pretty women."
Some people said they were not as optimistic about federal legalization of marijuana.
"I'm split on it," said Boston resident Daniel Burkhart. "Decriminalization is good, but I don't know if it's a good thing to completely legalize it."
Mustufa Taj, a project manager for a local bank, stopped by Hempfest with his parents because he said they had never seen a congregation like it before.
"I'm for legal marijuana as long as it's controlled in some shape or form," Taj said. "It's being done peacefully here, with the right imagery, in the right way."
Adding to the crowd of pro-marijuana supporters and passersby, volunteers campaigned for presidential candidates, notably Rep. Ron Paul, R-Texas. As a supporter of restricted government, Paul introduced a bill to Congress in June cosigned by Rep. Barney Frank, D-Mass., which would repeal federal prohibition of marijuana.
Shem Kellogg said he decided to campaign for Paul at Hempfest because Paul is an honest man who people can relate to.
"[Paul] opposes the drug war, folks here oppose the drug war," Kellogg said. "Most are left-leaning, registered Democrats, but President Obama started a few wars and supported the banker bailout."
Joseph Morgan, a volunteer for the Paul campaign, also attended Hempfest in an effort to sway people to vote for Paul.
"An event like this is where Paul would fit in," Morgan said. "He has always been about personal responsibility and government out of peoples' lives."
But ultimately, Epstein said Hempfest was an occasion for people to have fun.
"It's a party," Epstein said. "It's the biggest party around since the Grateful Dead."