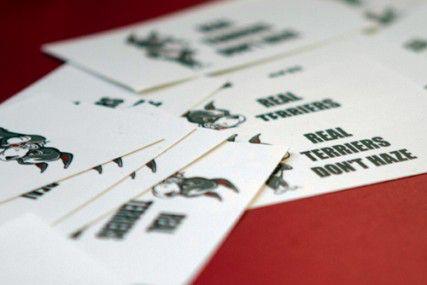 In October of 2010, a Radford University student passed away from acute ethanol poisoning in what was deemed a result of hazing.
This is just one in many cases of hazing that has occured at universities across the nation in the past several years. For many fraternities and sororities, hazing has become a way for potential members to prove themselves worthy of being a brother or sister, a process that is sometimes humiliating and even dangerous.
But at Boston University, sororites and fraternities do not tolerate this behavior. In fact, some are working hard to prevent it. This week, the BU chapters of Sigma Kappa, a sorority, and Sigma Phi Epsilon, a fraternity, teamed together in a week-long event to honor the nationwide Hazing Prevention Week.
The two organizations have a table in the George Sherman Union Link to raise awareness of hazing, answer questions and educate students on the zero tolerance policy for hazing at BU.
"Basically, this event [was created] so we can sponsor how the fraternities and sororities on campus do not haze and [how] we don't follow the hazing guidelines that some other universities might," said College of Fine Arts sophomore and Sigma Phi Epsilon Brother Juan Zuniga.
Zuniga said that instead of utilizing hazing in his fraternity, members participate in activities to try to get to know their new recruits on a personal level.
"Sigma Kappa has a nationwide 'RESPΣΚT' movement. It is our way of honoring each other and the promise that we have made to Sigma Kappa," said Sigma Kappa Executive Vice President Alyssa Palermo, a student in the College of Communication. "During the movement, Sigma Kappas all over the country bring members together to better ourselves, others, and our communities by celebrating the benefits of sorority membership while condemning hazing and other negative behaviors."
"As a sorority, we don't do any hazing at all, not during recruitment or during any other time," said Sigma Kappa sister Mary Al-Sayed, a junior in the College of Arts and Sciences.
Al-Sayed said the initiation process should be an enjoyable experience, not a negative one.
"Hazing in the greek system…is kind-of more severe in non-city schools. The more isolated the school is, the more hazing tends to predominate the activities that they do," said Tom Niblock, vice president of communications at Sigma Phi Epsilon and CAS junior.
"BU has had an up-and-down reputation [in terms of hazing] from what I've been able to gather, and around a half decade ago or so, there were more problems happening, and the school started to crack down trying to fix the situation," Niblock said.
"Now the Greek scene is starting to gain momentum again at this school. We're starting to see that more people are interested in joining, and more people are going through the rush process, and that's why we think that it's so important to, now especially, promote that we shouldn't be hazing," he said.
Niblock said that despite BU and the Greek System's efforts to curb hazing, there are still rumors about Greek organizations hazing its members with alcohol consumption.
"SigEp…is very very strictly non-hazing in many aspects. All of our events are dry, even if you're over 21," Niblock said.
He believes that BU is much better in terms of hazing compared to other Boston schools.
Sigma Kappa sister and COM sophomore Marina Salamon said although her recruitment process was "hectic and daunting at times,"once she received her bid, she found her sisters accepting and caring.
"I am happy to say that I was never hazed as a new member, nor did I take part in any events that made me uncomfortable or threatened my spot in the sorority," she said.
"One of Sigma Kappa's values is personal growth, and hazing would completely undermine our efforts to help our sisters grow stronger in academic, social and philanthropic realms."
However, Salamon also said that she had heard of different cases of hazing on campus.
"While we do have strict no-hazing laws, I believe that some hazing still occurs," she said.
Despite efforts by different Greek organizations to curb hazing, ENG freshman John Careaga said he heard "a lot of people talking about [hazing on campus]," though he said he knew of no specific details.
Careaga said that he wouldn't want to get involved with an organization that hazes potential members. However, he believes BU is better – compared to other universities – in regards to hazing.
In the state of Massachusetts, the ritual of hazing is illegal. The law banning hazing was enacted in 1985 and defines hazing as "any conduct or method of initiation into any student organization…which willfully or recklessly endangers the physical or mental health of any student or other person."
The law goes on to say that hazing includes actions such as "whipping, beating, branding, forced calisthenics, exposure to the weather, forced consumption of any food, liquor, beverage, drug or other substance, or any other brutal treatment or forced physical activity which is likely to adversely affect the physical health or safety of any such student or other person, or which subjects such students or other person of extreme mental stress, including extended deprivation of sleep or rest or extended isolation."
Included in the law is a section which outlines the punishment for failure to report hazing.