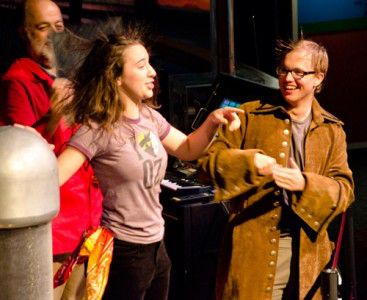 Berklee College of Music freshman Kirsten Piedalue watched as lightning struck with each keystroke of the piano.
"It was so much fun," Piedalue said while spinning around on a Segway — one of the many attractions at the Museum of Science's College Night. "It's really cool how we can get into this for free because otherwise it's really expensive."
While a night at Boston's Museum of Science usually costs $22 per person, college students were drawn to the museum's free admission in honor of College Night on Monday.
Exhibits showcased mathematical models, how lightening strikes and taxidermy of wild animals — including porcupines, polar bears and Bengal tigers. Students could also enter raffles to win JP Licks gift certificates, Six Flags passes and Duck Tour tickets.
Claudia Gumina, a Boston University junior in Sargent College of Health and Rehabilitation Sciences, and Heather Russo, a College of Arts and Sciences sophomore, tried to find a perfect balance on a seesaw.
"I think it's pretty cool that we got to go in here after hours and do everything for free and we got all the shows for free and everything," Russo said. "I mean, I was a lot more inclined to come here when it's free."
Gumina and Russo also took advantage of the museum's free films, which included "Waking the T-Rex: The Story of Sue in 3D" and "Adrenaline Rush: The Science of Risk."
"It was amazing because it's 3D and you get to see all the bacteria crawling through people's heads and I think that's really interesting," Gumina said. "She was dying and screaming, but it's really cool to see all the tiny things that you can get just from falling or scratching your arm or something."
The "Science in the Park" exhibit offered hands-on displays that students could use to solve questions such as, "How can a spinning wheel cause you to spin?" and, "How does a skater speed up while spinning?"
Despite Tejah Gowins' mountain of homework, she went to College Night to check out the live presentations on lightning and hurricanes and an exhibit that challenged students to lift 500 pounds.
"It looks pretty cool, I've only been here a little bit," Gowins, a Berklee College of Music junior, said. "I saw the electricity show and that was really cool."
Christina Duhani, an Emmanuel College sophomore, played with a sand pendulum in the mathematical exhibit.
"The only reason I came was because I was curious just to see what they had to offer," Duhani said. "So far it looks like it's going to be a lot of fun."