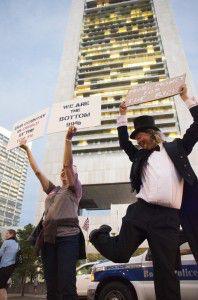 Carrying signs that read, "People over profit," more than 1,000 protesters gathered at Dewey Square on Friday to commence the first Occupy Boston demonstration.
Occupy Boston, inspired by the Occupy Wall Street sit-in, is part of an ongoing movement happening in many of the nation's cities aimed to expose corporate greed and political corruption.
Demonstrators in Boston's Financial District split themselves into "working groups" aimed to provide legal training and awareness, attract media attention, organize activities and compile food, among other services.
The American Civil Liberties Union distributed legal information cards, including their phone number to call if the demonstrators felt that their "rights have been violated," according to the card.
During the General Assembly session, the protestors started by establishing hand signals in order to reach resolutions on issues and courses of action.
"We are fed up with how our country is being run. We want fundamental change. Our democracy is not for sale. We are the ninety-nine percent," said Robyn, a facilitator of the rally, during a speech.
Facilitators encouraged demonstrators to help the movement by camping out on site, spreading the word about the movement and bringing food and water for the demonstrators.
"How long do we stay?" said Brian, another facilitator. "Until the people join us, younger and older, working and jobless, abled and differently abled, pious or godless, gay, straight or trans, black, Latino, Arab, Asian or white to build a new community."
Members of the working groups informed protestors how to seek medical help and legal assistance if pepper-sprayed, which occurred during the Occupy Wall Street sit-in.
"In this country, and, increasingly, around this world, masses of people, even poor people, are brought up on a lie," said Joe, one of the closing speakers. "This lie includes the following beliefs— corporations give us jobs, capitalists create wealth, bankers give us that money, politicians look out for us…"
After the General Assembly, the majority of protestors marched around the Financial District and ended with a demonstration at the Federal Reserve Bank of Boston, as they chanted "Anti-anti-capitalista," "End the war and tax the rich" and "We are all in this together."
"I'm very excited to see how decisions are being made collectively and through consensus," said Brendan Curran, a graduate student at Episcopal Divinity School. "I'm very excited to see us not emulating the behavior of the oppressive class."
Ann Wright, an activist who is mostly noted for her resignation from her position as a colonel in the U.S. Army in protest of the Iraq war, said she was satisfied with the turnout.
"I'm thrilled that so many people turned out for it," she said. "I've been going from group to group to listen to what all the groups are saying, and it sounds like it's going to be a really, really fine dynamic— a wonderful experience for everyone that comes here."
Luke Rebecchi, a Boston University student involved with Occupy Boston, said that the demonstration brings hundreds of people who are not of the same mindset, but who posses a similar goal, together.
"Everything that has happened tonight has just made me smile," Rebecchi, a College of Arts and Sciences sophomore, said. "And the message is simple— it's that in our system, it's not the best idea that wins out, it's the best-funded idea. So, we want to take the money out of it."