On Tuesday, The Muse's Music Editor, Lucien Flores, talked with Darby Cicci of the ethereal indie-rockers, The Antlers. The Brooklyn-based act burst onto the music scene in 2009 with their depressingly beautiful tale of terminal illness, Hospice. Cicci is the band's talented keyboardist and multi-instrumentalist: a perfect fit for vocalist Pete Silberman and drummer Michael Lerner. The band is back on tour after releasing one of the best albums of the year, Burst Apart, in May. The Antlers play The Orpheum Theater in support of Explosions In the Sky on October 5th.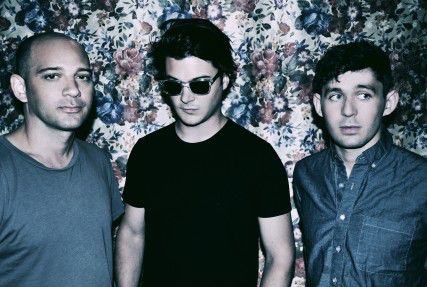 Lucien Flores: In March, The Antlers played a show at BU Central and debuted "Parentheses," "No Widows," "Rolled Together," and "Hounds." How did this show come to fruition and what did you make of the Boston University audience (were they accepting of the new numbers)?
Darby Cicci: We've been trying to get to BU for awhile, and the opportunity came to us right around the time we were getting ready to release Burst Apart, so it seemed an appropriate show to try out some of our live arrangements of some new songs. It seemed like people really enjoyed them. It's always strange playing songs that no one in the audience has ever heard, as you're never gonna get too detailed of a criticism, but I think it went well.
LF: Burst Apart is billed as more of a collaborative process (the songwriting credits go to "The Antlers") than Hospice. How was the songwriting process different this time? Did you feel more involved?
DC: Yeah the three of us co-wrote these songs. We built them from the ground up through writing arrangements and recording and we just kind of built the songs through moods and textures and chords. So yes we all spent hundreds of hours in the studio on this record. About 8 hours a day for 5 months.
LF: Your keyboard and banjo playing are integral to the sound of The Antlers. Who are your musical role models and how do you go about writing your parts?
DC: Yeah I ended up playing a lot of instruments on Burst Apart. Keyboards and banjo of course, but bass guitar, trumpet, and harmony vocals were a big focus of mine on this record. As far as writing, I have different approaches to different instruments. I think with bass it's really important to find a very liquid-sounding groove. Bass balances the rhythmic side of things with the harmonic/tonal chord progression side. Whereas with keyboards and synths, it's more about texture, creating different harmonies and of course creating the whole atmosphere and mood. Trumpet is about half harmony and half melody. And with singing, I just try to be as creepy and as pretty as possible. Creepy and pretty are the same in my opinion. As far as role models, I pretty much look to James Jamerson as the only bass player who ever lived. There's a lot of amazing synth players, from Air, Broadcast, Jean Michel Jarre, Brian Eno, Jonny Greenwood, Jay Bennett, Stereolab, Portishead, Aphex Twin, Four Tet, I could seriously list hundreds of them, but I won't.
LF: One thing I've noticed about The Antlers is that the band seems to have a strong grasp on fan interaction, especially on Facebook where you guys always seem to be joking around with fans.  Who is in charge of facebooking in the band and how important do you think having a solid interaction with your fanbase is?
DC: Extremely important to us. Facebook and Twitter are by far the best way to interact with fans. Peter and I split the facebooking and tweeting. Sometimes we sign our posts, but it's usually meant to be the band as an entity. We don't take either very seriously. We're very strange people and usually just use social media as outlets for our insanity. I like asking strange questions and seeing all the crazy responses I get from fans. It's fun to give guest list spots away for shows if we have them available too. It's also a great boredom killer (since we're usually traveling every day of our lives). So many great reasons to follow us. And so many hilariously bad jokes! Or just bad, you decide. It's a sickness.
LF: The Antlers are playing in support of Explosions in The Sky for a few dates. How did these shows come about and were you a fan of the band before the tour?
DC: We've worked with some of the same people. It's a pretty small music world. We've been huge fans of them for a long time, and have always just heard how they are the some of the nicest, most supporting guys out there. It really is true, the tour has been so easy-going. We're both pretty atmospheric bands I think, and it's a rarity to be so stylistically compatible, yet still different enough to make it interesting. It's a great tour, I only wish it were longer.
LF: How do you entertain yourself on the road?
DC: I'm developing a cooking show I'm going to host from the road. I won't have enough free time or cooking abilities to film it until we have a tour bus, so in the meantime, I'm just doing a lot of planning. Other than that, I work on music on Ableton and Logic from the road. I watch as many horror movies as possible, and there's always Hulu and Netflix. There's also my ever-favorite "staring out of the window until I fall asleep" game that's pretty fun. And of course there's drinking.
LF: Is there anything you like to see/do when in Boston?
DC: We're going to eat breakfast at The Friendly Toast, I think that's the only plan at this point. Our sound guy/tour manager is from Boston and took us there.
LF: You were playing solo before joining The Antlers (Minus Green, 2007). How do you enjoy playing solo compared to being in a band?  If you ever returned to playing solo would it be more as a side-project or would you like it as a full-time gig?
DC: Playing solo can be pretty boring. Even recording by yourself can feel pretty static and uninspired sometimes. I was playing guitar mostly back then (2006-2007), which I've found to not really be my favorite instrument to play. But I'm finishing up a solo record right now that I've been working on for awhile. I don't know if I'll tour at all on it though, and I don't really want to play solo, but we'll see what happens. I made a lot of it on modular synth, so it would be tricky to replicate a lot of the sounds live. I'm certainly not leaving The Antlers and we're not going on hiatus or anything like that, so it would definitely be side-project style. If you look at out tour schedule you'll see how little free time I have.
LF: What has been the biggest moment for the band/yourself since Burst Apart was released? Was it then Leno appearance, playing throughout Europe, or something else?
DC: Being on TV is really exciting for sure. You're at the studio all day for about 3 minutes of on-camera time, but it's pretty glamorous I guess, especially Leno, when the guests were Justin Timberlake and Shaq. But I'd have to say my favorite moment so far was performing at Radio City opening for The National. That theatre has so much history, and it's by far the biggest show we've ever played at home. Just a remarkably elegant and unforgettable night.
LF: Considering the Williamsburg music scene is known for collaboration between artists, are there any artists/bands that you love to collaborate with? What currents acts do you admire/have you been listening to a lot recently?
DC: It seems like most of the artists I meet is on tour somewhere, or at some festival, or when some band is in New York for a show. It's actually pretty hard to keep track of who's from Brooklyn at all, as everybody is constantly traveling through New York, and we're pretty much never there. But there's an endless list of people I'd like to work with. I'd like to work with Lykke Li or St. Vincent for sure. I think they're both amazing.