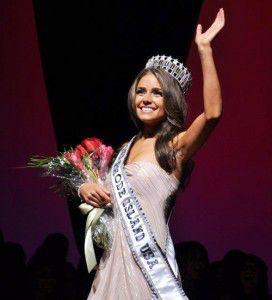 While for some the idea of participating in a beauty pageant may seem worlds away from life at Boston University, for College of General Studies sophomore Olivia Culpo, the winner of the Miss Rhode Island contest, participating in the pageant was just a personal goal.
"It was my first pageant ever," she said. "I'm just like any other person who sets goals for themselves and tries to achieve them."
Culpo was crowned Miss Rhode Island 2012 on Sept. 18 and is preparing to compete in the Miss USA competition next June.
The road to the crown tested her stamina on an everyday basis, she said. In preparation for the pageant, Culpo said she went on a no-carbohydrates diet that required her to eat every two hours, undergo four days of resistance training a week and three days of cardio exercises a week. She spent the first three weeks of school balancing classes with the upcoming pageant.
"It taught me a lot about myself," Culpo said. "I had to not go crazy with commuting on weekends and working on my career and working with school. I couldn't lose my mind when I couldn't eat all the carbs I wanted, but it was a goal that I had set for myself."
Having a tight schedule, however, is just a way of life, Culpo said. The pageant queen began modeling at age 16 after her neighbor Andrea Valentini, a Rhode Island-based designer, started taking photographs of her for her website.
"I used the pictures [Valentini] put on her website as a portfolio," Culpo said. "I went to an agency in New York named Major Model Management and they gave me advice for modeling in that area, but then I decided that I was going to go to Boston."
Culpo's deciding factor for where to begin her career came down to her university decision. Boston had captured her attention years ago because it is in a major city but is close enough to travel easily to Rhode Island.
"I played cello with the Boston Symphony Orchestra, which rehearses in [the College of Fine Arts], so I knew BU," Culpo said.
Upon moving to Boston, Culpo said she became involved with Maggie Inc., a leading modeling agency in Boston. She began acting last May while working in Seth Macfarlane's "Ted," which starred Mark Wahlberg and Mila Kunis.
It was with her acting career in mind that Culpo decided to interview for the Miss Rhode Island pageant, she said.
"I wanted to work on my stage presence for acting. I guess it was another experience of acting," Culpo said.
College of Arts and Sciences sophomore Layla Beyzavi, Culpo's roommate, said that in the first few weeks of school Culpo's life appeared to "revolve" around the Miss Rhode Island pageant.
"She was never here at the apartment, and she had an intense diet and work out plan," Beyzavi said. "She hardly went out because she had to rest and stay on top of her schedule."
If Culpo wins the upcoming Miss USA pageant, she will be eligible to compete in the Miss Universe pageant. Culpo said that she her accomplishments are merely the result of her commitment to reaching her goals.