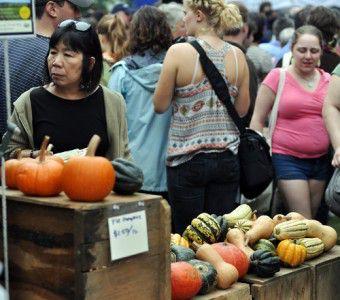 It's that time of year again. October brings chilly weather, Halloween, and most importantly, the start of autumn. As the colors change and the weather get colder, there are plenty of activities to look forward to – or use as methods of procrastination.
FALL FESTIVALS
The Keene Pumpkin Festival, also known as "Pumpkin Fest," will be held on Oct. 22 this year in Keene, New Hampshire, just across the Massachusetts border. The festival started in 1991 with 600 people and around 1,000 pumpkins, and has steadily grown to host an estimated 80,000 people per year.
Each year, downtown Keene is packed with pumpkins as the festival attendees attempt to collect pumpkins from the largest number of lit jack-o'-lanterns all in one place. In 2003, Keene set the record for most pumpkins in one place with 28,952 pumpkins, but this record was broken by Boston in 2006. The festival is an all-day event that includes fireworks, music, food and pumpkin bowling. It's also BYOP, or Bring Your Own Pumpkin.
The Applecrest Farm Festivals are a series of festivals held every Saturday and Sunday in October at Applecrest Farm. The Farm is in Hampton Falls, N.H., also located just over the border, along the scenic New England coastline.
The farm is New Hampshire's oldest and largest apple orchard, annually harvesting over 40 varieties of apples, peaches, berries, sweet corn and pumpkins. Applecrest also offers live folk music, pie eating contests, fresh hand-pressed apple cider, hot cider donuts and fire-roasted corn. Each weekend the festival offers a different theme, from Storybook Hayrides to Orchard Cross Bike Race.
The festivals run every Saturday and Sunday in October from 11 a.m. to 5 p.m.
The Head of the Charles Regatta is the world's largest two-day regatta and another fall tradition in Boston. More than 8,000 athletes travel from across the world to complete in 55 different racing events, attracting about 300,000 people each year. The three-mile race course provides plenty of space to watch and cheer for the high school, college, adult and even Olympic crew teams as they row one of the most challenging rivers in the sport of rowing.
The regatta will be held from Sat., Oct 22 to Sun., Oct. 23.
The Greenway Mobile Food Fest, a celebration of the fall harvest with local food trucks serving all of Boston's best street food, will be held at Dewey Square Park across from South Station on Sat., Oct. 15. The food fest will have live folk music and pumpkin themed tastings, as well as performances by local bands and farm fresh seasonal produce. Participating food venders include Kickass Cupcakes, Clover Food Lab, Roxy's Grilled Cheese, BBQ Smith, Bon Me, Lefty's Silver Cart, Staff Meal, Mobile Home, Grilled Cheese Nation, The Dining Car, Equal Exchange Free Range Cafe, Boston Frosty, Ben & Jerry's, Boston Speeds, Spoon Truck and Silk Road BBQ.
CiderDays is a celebration of all things apples in Franklin County, Mass.  The event is easily accessible by way of the commuter rail and is held on the first weekend of November, after most cider apples have been picked. The festival includes orchard tours, cider making and tastings, workshops and more.
Wachusett Mountain in Princeton, Mass., about an hour outside of Boston, is best known for its ski slopes, but for one weekend in October, it is all about the apples. AppleFest is held on the weekend of Oct. 15 and includes more than 75 craft and farmers' market booths, chainsaw carving demonstrations, hayrides, a barbecue, hay and pony rides, clowns, entertainment and scenic foliage sky rides. For the older crowd, AppleFest also includes an Oktoberfest celebration with a beer garden, German food and live music.
CIDER DONUTS AND CARAMEL APPLE AND PUMPKIN PIE, OH MY!
Massachusetts alone has 78 pick-your-own-apple farms, including Honey Pot Hill Orchards. Located less than an hour outside of Boston, Honey Pot Hill Orchards is a 200-acre farm that has been in the same family since 1923. The farm grows and sells 25 varieties of apples, as well as several other seasonal fruits.
Along with the fresh fruit visitors can pick at the farm, the Appleshop also sells freshly pressed cider and hot cider donuts.
Honey Pot Hill Orchards is open daily from 10 a.m. to 5.pm.
Though pumpkins are available at local grocery stores, the real fun is going to a pumpkin patch. One of the oldest farms in the country, the Belkin Family Lookout Farm, has over 25,000 pumpkins to choose from, and is just a short ride on the commuter rail from Boston. Along with a pumpkin patch, the farm also boasts mazes, train rides, animal petting zoos and pony rides.
The Belkin Family Lookout Farm is open daily from 10 a.m. to 5 p.m.
Along with its pumpkin patches, Connors Farm in Danvers also has a seven-acre corn maze, open until the end of October. Established in 1904, Connors Farm has been family-owned since its inception.
Each year, the farm creates a unique design for the maze. The farm has been designed to resemble characters of "Family Guy" in the past. This year, the theme is Salem Village and the Headless Horseman. Along with the daytime maze, Connors Farm has a Haunted Corn Field open from dusk until 10 p.m.