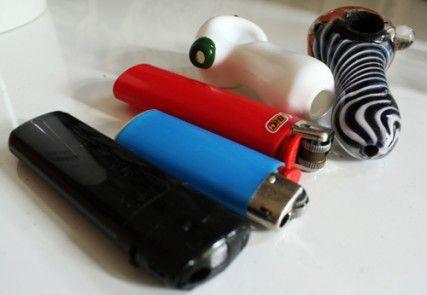 Among thousands of marijuana smokers at the Boston Freedom Rally in September, one unnamed Boston University student had his drug paraphernalia confiscated by a Boston Common park ranger, despite not having traces of marijuana in it.
"There were other people around smoking out of pipes," the College of Arts and Sciences sophomore, who requested to remain annonymous, said. "But the ranger just came up to our group took it without saying anything and left. We were shocked and annoyed."
Under the Mass. Controlled Substance Act, it is illegal to sell, or intend to sell, drug paraphernalia. However, it is legal to own drug paraphernalia.
"Possession of drug paraphernalia is not a crime in Mass.," said Steven Epstein, founder of The Mass. Cannabis Reform Coalition in a phone interview. MassCann is a pro-marijuana association that advocates for the legalization of the drug.
"However, it is a forfeitable item," Epstein said, referring to drug paraphernalia. "The police have a right to seize it."
The paraphernalia law states that no person shall sell, possess, purchase or manufacture with intent to sell drug paraphernalia. The consequences for an individual accused of selling or committed to selling any of these objects can face up to two years in jail and a $5,000 fine.
The law describes drug paraphernalia, stating it can be any object that would assist in the process of growing, producing or packaging drugs as well as any object that can induce the effect of the drug.
This ambiguity creates discrepancy for stores selling tobacco pipes.
Joshua Krefetz, of Allston, is an attorney who defended the Green Side Up Gallery, a retail location that supplied a large selection of glass jewelry and tobacco pipes, after police raided their shop in 2010. Green Side Up Gallery eventually re-opened after a legal negotiation with the district attorney's office.
He said that paraphernalia does not have to be specifically produced to use a particular drug.
"It doesn't necessarily have to be a pipe or rolling papers or anything like that, it could be anything," he said. "It could be a soda can that someone used as a pipe, to smoke pot. If they find marijuana residue on it, that could lead to a charge of drug paraphernalia."
A pipe or bong without any drug residue might not actually even be considered drug paraphernalia at all, he said.
"If you smoke an accessory and you put it into contact with any illegal controlled substance, it becomes drug paraphernalia by that contact happening," Krefetz said.
At BU, possession of drug paraphernalia or items that may be utilized for illegal drug use is prohibited in residences, according to the BU Nonacademic and Residential Policies.
"If it's a clean piece of drug paraphernalia, it is their property and there is nothing illegal about possessing it," said BU police department Capt. Robert Molloy in a phone interview.
If residue-free drug paraphernalia is recovered from a residence that prohibits it, BUPD will take the paraphernalia, Molloy said.
The student can choose to bring it home on a weekend, have it shipped back to his or her house, or wait until the end of the year to bring it back, but no disciplinary action will be taken, according to the BU Nonacademic and Residential Policies.
He said the selling of paraphernalia is not a consistent problem at BU.
"We don't see it here," Molloy said. "We don't see students selling it. We have never received any information like that."