Let's be honest – who predicted that the Boston University men's hockey team would have defeated the University of New Hampshire 5-0 in its home opener?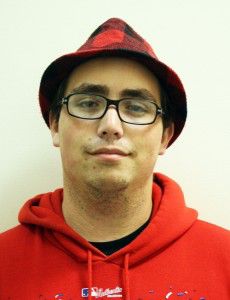 I, like many others, had some doubts, especially after the underwhelming contest against St. Francis Xavier, who then went on to defeat Northeastern University 8-5.
Hey, Commissioner Bertagna, you should think about inviting the X-Men as the 12th team to Hockey East.
While I was impressed by Saturday's performance, it is far too early for this columnist to tip his red fedora.
If I may, let us shift our focus from the ice to the stands. For the most part, I was pleased with what I saw and heard from both
student sections. However, there is certainly room for improvement and there are some issues I feel should be addressed early in the season.
For the freshmen, I understand that you are new to BU hockey. Please take this as a cheat sheet for future games.
Maybe you are asking who is this guy is and what right does he have to tell us what to do during games? Both would be reasonable questions, which I will briefly address.
I have been a member of the Dog Pound for three-plus years and in that time I have seen the fan group's best (2009 Beanpot Finals and Frozen Four) and worst (2011 Hockey East quarterfinals) moments. I have experienced the joy of victory and the bitterness of defeat with the Dog Pound.
I have even had my share of moments dealing with opposing fans, Agganis Arena security and even Boston College police about what they may have considered to be inappropriate chants and antics. I do not wish, nor can I force any fan to do anything. Rather, I am providing suggestions that would make your game experience a more enjoyable one and strengthen the Dog Pound as a whole. With that taken care of, let me provide you with a Dog Pound for Dummies guide to men's hockey.
The first point is very simple: stand when the team is on the ice and sit down when they are off the ice. Yes, this includes warm ups. If a few fans are seated in the student sections (108 and 118), especially during the game, it creates the image that we are not unified. If you are closer to the ice you should be standing in the student section!
Too many fans were sitting down during the game, especially in section 108. If you do not plan on standing during the game, that is fine, but do not get a ticket in sections 108 or 118.
Second, when the period is over do not immediately sit down. We wait until our entire team has left the ice and the BU fight song is over.
Third, at the end of the game do not leave immediately for the exits. Win, lose or draw, show support for the team by standing until they give a stick salute. The stick salute serves as the team's way of thanking fans for coming to the game and you have to wait all of 30 seconds for it to happen.
Fourth, the Dog Pound has a special tradition for when the starters of the opposing team are announced. In involves us turning around, backs to the ice, and saying "sucks" after the name of every player. After the five starters are announced, we point to the opposing goalie and say "sieve" as many times as possible. Even if you do not wish to participate in the chant itself, please turn around so you do not look like a fool.
When our goalie is announced in the starting line, we bow. In addition, after impressive saves we also bow. There is no perfect
example of a "bowable" save; rather it is a judgment call.  Please do not bow on every save. You will get yelled at and receive weird looks from the more experienced Dog Pound members.
But above all else, the biggest thing that bothered me during Saturday's game was the "F— New Hampshire" chant. Agganis security is not shy to kick any fan out of a game for saying something they deem to be unsuitable for a sporting event, so do not tempt them.
The Dog Pound does not promote chants containing expletives and we will not associate with anyone who begins those chants. We are not like the University of Massachusetts fans who curse non-stop to make an intimidating environment; rather it was our creativity that made us the best student section in all of college hockey according to CBS College Sports in 2005.
In conclusion, stand, don't curse, and if unsure what to do, follow what those chanting are doing.
Stay classy, not UMassy.