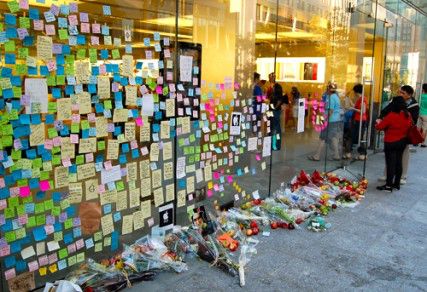 The four-story Apple Store at 815 Boylston St. in Boston was lacking its usual hectic buzz and excitement on Thursday as customers and employees mourned the death of Apple founder and CEO Steve Jobs.
Apple announced that Jobs died on Wednesday evening at the age of 56.  "The world" had lost a "visionary and creative genius," the site read.
Jobs, who was diagnosed with pancreatic cancer in 2004 and underwent a liver transplant in 2009, resigned as CEO of Apple in August citing health issues.
Outside the main door of Boston's Apple store, a small but steadily growing memorial arose in honor of Jobs. Apple enthusiasts left mementos and gifts such as flowers, pictures, drawings and apples.
Each gift was filled with heartfelt messages and inspiring quotes. Taped onto the glass façade of the building were the words, "Stay hungry and stay foolish," which Jobs said during a commencement speech to Stanford University's Class of 2005.
The message resonated with many people, including Boston University student Michelle Toyloy.
"For me, it means to never be satisfied with what you have and to dream big even if your goal may seem unreachable at the time," Toyloy, a College of General Studies freshman, said.
Arantxa Orellena, a visitor from Spain, described Jobs as a "brilliant person" who had a strong understanding of "human feelings."
"He opened the way for a lot of people," she said. "I've talked to my family in Spain and they are very sad by his loss."
Zam-zam Dayib, a senior at Northeastern University, said she was also deeply saddened by the loss of Jobs. She said she overheard the news from a friend and then later listened to coverage by Anderson Cooper of CNN.
Mumtaz Khan, a junior at Northeastern, said she did not believe her sister when she told her that the "Willy Wonka of Technology," had died.
"I realized that it would be a big day in history because everyone owns an Apple product," she said, as she placed a picture of a college classroom filled with MacBooks at the memorial.
Dayib and Khan both said that despite the former CEO's death, Apple would not lose its status as the premier electronic producer.
Boston University community members also expressed strong feelings about Jobs' death.
Former Apple Inc. employee and Boston University Information Services and Technology client support specialist Christopher Connors said that he grew up in technology seeing Steve Jobs and Bill Gates as the "yin and yang" of the technology industry. Connors said his love affair with Apple Inc. began with his first Macintosh computer.
"When I got my first Mac, it was like a light bulb went on," Connors said.
Apple co-founder Jobs, who Connors said centered his life around changing lives with technology, died on Wednesday, reports say. The Jobs family released a statement Thursday saying that Jobs, who was battling pancreatic cancer, died "peacefully." However, the statement did not disclose the cause of death.
Connors, who worked at Apple for eight years, said Jobs leaves behind one of the greatest legacies, one that focused on customers rather than the products themselves.
"So many companies just focus on making products, but Steve Jobs focused on making products to help people, to move an entire industry forward. That's what I'm going to miss the most … It's something that was really rare," Connors said.
Jobs' vision included not only making technology a medium for exchanging ideas, but also making it accessible to all forms of human communication, Connors said. At Apple, Connors said he trained blind and deaf people to use a computer. Even before Apple's voice-over technology, Apple had features that catered to that community, he said.
"It's that idea that technology's for everybody," Connors said.
College of Arts and Sciences sophomore Nam Chu Hoai said that Jobs was probably the greatest chief executive officer this generation has seen.
"It's inspiring and it shows that if you have a certain vision, you can do it," Hoai said. "He actually had an impact on the world."
Hoai said he learned to appreciate Apple at a summer internship with Apture, a San Francisco-based company for JavaScript writing and contextual research, where the CEO was an Apple veteran. What Hoai said he had heard there was that Windows CEO Bill Gates succeeded in bringing the computer to the home, but that Jobs succeeded in making the computer personal.
"He had a vision of what technology should be in the lives of humans," Hoai said. "If you look at the past ten years, 20 years, he did [change our lives]."
BU Professor Christos Cassandras, head of the Division of Systems of Engineering, said that Jobs made his mark in bringing together the technology and business worlds.
"Jobs has set a new model for the technologically savvy entrepreneur who targets creativity over bottom-line profit," Cassandras said. "Being involved with computer technology myself, I see a huge gap between the creative minds of engineers and the finance-minded CEOs. This has prevented many innovative ideas from flourishing. Jobs bridged this gap at Apple and has set such a model for others."
Jobs, a college dropout, started Apple out of his parents' garage with his friend Steve Wozniak, he said in a commencement speech for Stanford University's class of 2005. Ten years later, they had a $2 billion company with 4,000 employees.
"When he talks about his vision, he didn't train people how to use [Macs] or go to the manufacturers and construct them, but he hired people who shared his vision and let them run with it," Connors said.
"It's definitely affected the way that I use my computer," said Sarah Al Mousawi, a freshman in CAS.
College of Communication freshman Lida Nasseri said she agreed that Apple products have shaped the lives of consumers.
"I'm actually thinking about getting an iPhone soon because it's necessary to function around here for GPS and other stuff," Nasser, who owns a Blackberry, said. "The presentation is really important, and the fact that they're so out there with their products."
Cassandras said that Jobs has left a legacy of technology and entrepreneurship.
"Throughout history, there have been iconic figures associated with disciplines we value, like philosophy (Plato), science (Newton), literature (Shakespeare). It may well be that Jobs will be remembered as the prototypical figure associated with computer technology," he said.
Apple employees were not available to comment.