Cooperative housing draws in students interesting in community bonding.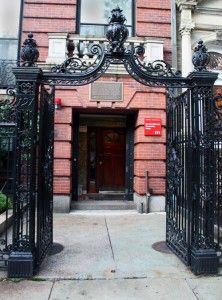 On a typical Wednesday night, the girls of the Harriet E. Richards House can be found gathered around their large wooden dining table, musing over their day and enjoying a home-cooked meal courtesy of a housemate. Sharing a living space, responsibilities, groceries and long-lasting memories, the girls are part of a cooperative house, brought together by the singular idea of enjoying a community with other Boston University students.
The house's mission is to provide off-campus housing that is still associated with the university to undergraduate women dependent on financial-aid.
Established in 1928, the Harriet E. Richards House, also known as the H.E.R. house, is the nation's oldest women's cooperative house. One resident of the house, Boston University senior Rachel Paul, drew parallels between cooperative housing and Greek life when describing the house.
"A friend of mine is the president of a fraternity here, and he said 'You know you guys are like a sorority,'" Paul, who has lived at the H.E.R. house for five semesters, said. "But the true sense of the word, a sisterhood."
A SHARED PHILOSOPHY
A cooperative house depends wholly on the residents who live in it.
"We always say we couldn't function with just twelve girls, there's too much work to go around," said Paul. "It's a dependent situation but it's also a growing situation. It's like a society within a society."
Cooperative housing and other planned residential communities generally offer a cheaper housing alternative and bring together people of like-minded beliefs. Residents go through an application and interview process and admittance into the house is a collective decision made by all house residents.
Kelly Baker and Krystal Hope, residents of a community house in Allston, came across cooperative housing through Craigslist. Upon reading the description of the house they were interested in living in, they knew that it was exactly the type of living environment they wanted.
"We look for a good fit. Balancing all these people, and all these personalities and ways you do chores is difficult," said Baker, 23. "It somehow ends up working. And overall we hold each other accountable and we get along."
Formerly referred to as the Anarchist House, this intentional community was built on the basis of fostering mutual understanding and acceptance as well as a common affinity for activism. Residents hold political and social activism highly – one of the questions on the house application is what sorts of activism potential residents are involved in.
Ultimately, the house is an area where people can come together and safely share their views. A hot spot for people of all backgrounds and different communities, the H.E.R. house regularly hosts open-mic shows, potlucks, Know Your Rights training sessions and skill shares. The co-op also plays host to the local Boston chapter of Food Not Bombs, a volunteer movement that shares free vegan meals as a way of protesting war, using the Allston cooperative house's kitchen to prepare meals, and a women/transgender variance group.
The house occupants no longer refer to the residence as the Anarchist House because of the label's negative connotation. However, the H.E.R. house has adopted a nonhierarchical method of keeping house affairs in line and also uses consensus-based decision making.
"Every co-op is different in some way, because everyone brings something different," said Hope. "They're all characteristic of the people who live there and what they agree to."
The residents all sought out the house for different reasons.
Recent BU graduate Libby Glenn studied abroad in Niger, where she lived in a similar house. She said that upon her return, she wanted to live in the same sort of environment.
"We try to foster an environment where we try to encourage each other to get involved in community activities and social engagements," said Glenn, 23. She is currently active in the Occupy Boston movement.
Fellow housemate Hope, also 23, works as an Americorps volunteer, while other residents have politically themed blogs.
The Allston house residents are committed to living economically by buying communal food and maintaining a garden. The residents acknowledge that they live in a city and do not want to take up a lot of space or leave an ecological footprint.
BU graduate Annabelle Ho previously lived at another co-op house called The Hive in Brookline, where the groceries were bought through community supported agriculture, based off an established relationship between farmers and consumers. The Hive supported local farmers and once per week, a farmer in the Boston area would drop off a box a groceries for the housemates.
NOT A CAKEWALK
Living in an intentional community is hard work and not for everyone. The level of commitment to the house is supposed to be a high priority of each resident.
Engaging in the community and looking to make an impact starts at home, house residents said.
"We're constantly working inwards and then we can focus outwards," said Baker. "I see the symbiosis of it."
Cooperative living is about constantly growing, maturing and changing with the different personalities and needs, residents said. This lifestyle is not out of need for companionship, but a way to build relationships.
I don't want to live with anybody I don't know or care about," said Hope. "And now I don't want to go back to living with people where I don't want them to be a significant part of my life."
A TRUE FAMILY
Intentional communities have cropped up in seemingly unlikely places. Baker said that there was another house, also in lower Allston, that is made up of an elderly crowd of different backgrounds. Although it isn't a collective house, the basic idea of cooperative living is the same.
"They're living their golden years in a little retirement community," Baker said, musing that she would love to live in a cooperative house until she's old. "An intentional retirement community."
Other cooperative houses may hold entire families. Residents will not only take care of the home, but of each other's children. One such house exists in Jamaica Plains.
H.E.R. resident and BU senior Kristen Keesee explained that to her, the difference between dorms and cooperatives was that "dorms are nice, but dorms don't come with a family."
For Keesee, the simple gestures make the difference, whether it be making cookies when people are stressed out or bringing a sandwich to a roommate who has had a full day of class without a break.
As Paul looks toward graduation and leaving the H.E.R. house, she reflected on the people who have been an integral part of her college career.
"For the first time in a while, I've been reminded that I don't just live in a house," said Paul. "I'm part of an institution."