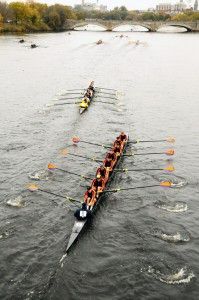 Spanning two days, three miles, six bridges and 55 events, the Head of the Charles Regatta, the world's largest two-day rowing event, will race to its 47th year this weekend.
This year, the regatta has 600 institutions participating with 1,938 individual boats. Nine thousand rowers from 19 different countries will race in the event.
Executive director Frederick Schoch has been running the event since 1991, and he said that part of what makes the race unique is its location.
"It's the coming together of a number of factors that make it exciting," Schoch said. "It's in Boston, for one, and it's with so many colleges."
Thomas Bohrer, the head coach for Boston University men's crew team, also said that the location of the race is important.
"I think it's a special race," he said. "It's based right here in Boston University, our home course."
The course is about 3 miles long, starting from BU's DeWolfe Boathouse in Cambridge and finishing in Artesani Park in Boston. Schoch said that part of what makes the race appealing is that it is challenging – the course features two reverse turns and six bridges.
The race is expected to draw about 300,000 spectators.
"In our favor, the Red Sox are done and the New England Patriots have a bye week so we are the main event this weekend," Schoch said.
The BU women's rowing team is "pretty excited" and ready for the race, said Westanna Carleton, a member of the team.
"We broke our own team record this morning for the course, so we're really optimistic about it and looking forward to a good race," said the College of Arts and Sciences sophomore.
Carleton said that all of the boat traffic on the river is a challenge because there are so many people from all over the world rowing at once.
"There are a lot of distractions and you have to try to block all of them out," she said. "We're prepared though."
Carleton said that with such a young team, the goal is always to get faster on the course.
"I think we're really coming together as a team and working hard on that goal to get faster through the winter season and into the spring season," she said.
Instead of placing first, Carleton said that the team's goal is to beat it's own record.
"I would say that the whole boat would like to beat the time last year," Carleton said. "It's more about the time on the course than the place we get."
Sydney Shea contributed to the reporting of this article.