Boston Mayor Thomas Menino called for greater access to healthy foods at Tufts Medical Center on Monday to recognize Boston Food Day.
Food Day officially kicks off Tuesday with the Boston CAN Share, a can drive that benefits the Greater Boston Food Bank.
Menino discussed his current and future plans for Boston food systems. He said his "food groups" will lead the way and make Boston the "capital of good, healthy food."
He said his objective was to create "access to fresh and reasonably priced food" for the people of Boston. He said that one of his initial goals as mayor was to bring full-service supermarkets to the heart of the city, a concept that many people saw as impossible.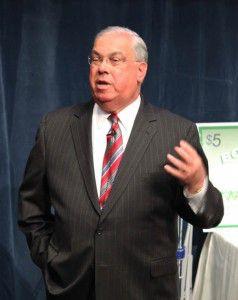 Since his first term in office, Menino said he has brought 25 new supermarkets to the Boston area.
He said that these stores are thriving and revitalizing neighborhoods by providing food that is accessible to all incomes. The Boston Bounty Bucks program, which helps families afford fresh food, is accepted at supermarkets across the city.
Menino said he was concerned with making Boston a healthier city, beginning with children. Most children face the challenge of obesity, as junk food is constantly advertised in today's society, he said.
The mayor said his hardest fight was taking soda and snack food vending machines out of public schools. He said he faced resistance from both parents and teachers, as these machines brought additional revenue to the schools.
Since removing these machines, he said studies have shown that Boston students are drinking less soda than when it was sold in school.
The city also removed sugary drinks from public sites, further enhancing the effort to support a healthy lifestyle for the citizens of Boston. Menino said he has worked out a new contract with culinary groups to provide better-tasting and healthier food for students.
He said that one of his grandchildren commented that school cafeteria food tastes like "cardboard."
"And that was how we changed food policy," he said.
The largest concern, Menino said, is the proper nutritional education for the Boston youth, as this will help them throughout their lives. He said that he hopes to further implement more physical activities, though he must reach out to students who typically shy away from fitness and exercise programs.
Menino said the creation of community gardens leads to a sense of community as well as fruits and vegetables. He said he hopes to change city zoning rules to allow community gardens in otherwise vacant areas.
Farmers markets, he said, are also wonderful gathering places that can bring the city together. Menino's final topic was the food economy, including restaurants, food trucks and other nutritional business ventures. Because of the service local restaurants provide by supporting numerous non-profits, he has extended the season for outdoor seating, which provides a boost in revenue.
He said food trucks have proved crucial in stimulating the local economy, providing jobs and revitalizing neighborhoods.
Menino cited the mobile Clover Food Lab, which Menino said makes the best B.L.T. sandwich in Boston, that grew from a seven-person staff to one with 70 employees. The Clover truck can often be seen outside of Boston University's College of Fine Arts.
Menino closed by answering questions about implementing mandatory calorie labeling, which would require restaurants to list the caloric value of each food item, a system that functions in New York City.
Brandy Brooks, the director of community programs at The Food Project, talked about Menino's plan for creating healthier eating habits.
"Menino has a good basis for implementing food education for children in Boston Public Schools," Brooks said.
Boston University College of Arts and Sciences freshman Rachel Nguyen said she thinks Menino is heading in the right direction to improve lifestyles of Boston residents.
"I hope that he can come up with ways to implement better eating across college campuses," she said. "I love the food at Warren [Towers], but I sometimes question how healthy it is. I think college students also need to be educated on better eating habits and good physical fitness."