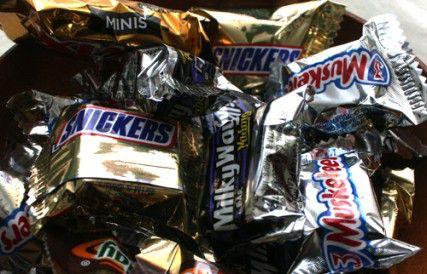 Costumed kids searching for king-sized candy bars on Halloween look, no further – Boston is the second-best city in the country for trick-or-treating, according to a Zillow Blog ranking.
Losing out on the title to San Francisco, Boston jumped five spots in the ranking from last year. This is the third year that Zillow, a real estate website, has calibrated a trick-or-treat index, based on four equally weighted categories: median home value, population density, crime and city walkability.
Boston ranked number two in both population density and walkability, but fell somewhere in the middle of the other two categories. Zillow also listed the top five neighborhoods to trick-or-treat in within each city.
Suzanne Besser, the executive director of the Beacon Hill Civic Association, said she was not surprised that her neighborhood ranked number one for trick-or-treaters within Boston.
"It seems to be becoming more and more popular," Besser said. "Last year we were counting, we gave out 1,000 bags of M&Ms."
She said that Beacon Hill closes off two main streets, Pinckney Street and Mount Vernon Street, on Halloween. Besser said there is a strict no-driving policy enforced between 4:30 p.m. to 9 p.m. in order to protect little witches and ghosts.
"Because we close them, it means cars can't get to three or four other roads," Besser said. "This makes it very safe because the roads are blocked off."
Back Bay, the second ranked neighborhood, also blocks off roads, according to the Neighborhood Association of the Back Bay's website. The city shuts down Marlborough Street between Berkeley and Fairfield Streets, as well as Dartmouth and Clarendon Streets between Commonwealth Avenue and Beacon Street.
Both neighborhoods said that some of their popularity is due to the closeness of the houses as well as community support.
"The homeowners who participate sit on our sidewalks with lights on so kids can see right away where to go," Besser said.
Sue Baker, co-chair of the Friends of the Clarendon Street Playground committee, a sub-committee of the Neighborhood Association of the Back Bay, said that some of the neighborhood's popularity is because of the annual Halloween Party at the playground.
"Probably a few hundred kids come to the playground. More and more families are staying in the city," Baker said. "People think families don't stay here, but when you see the number of kids, it's incredible."
The Neighborhood Association of the Back Bay also provides families with a "Safe House" list, so even on Halloween kids are not taking candy from complete strangers.
Other high-yield neighborhoods are the North End and South End, as well as the Kenmore area.
While Baker said that Back Bay usually only attracts younger neighborhood children, Besser said that Beacon Hill usually sees a substantial amount of college students.
"It's great because they are so creative," Besser said. "We will get a big group and they'll all dress together as something like Snow White and the Seven Dwarves."
But college students' propensity to be out late could dash dreams of sugary swag.
"Sometimes they come too late," Besser said. "Last year we ran out of candy by 8:30."