It seems these days that it is not a No. 12/13 Boston University men's hockey game without a goal from sophomore forward Matt Nieto.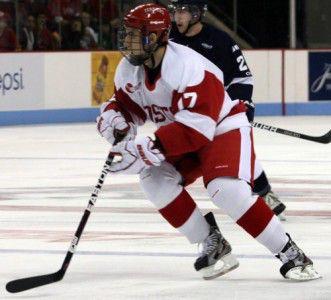 So on Saturday night at Agganis Arena, when BU and the University of Massachusetts were knotted 4-4 in overtime and Nieto had yet to score, it seemed likely Nieto would be the hero for the Terriers.
Indeed he was, as Nieto's goal with 3:17 into overtime lifted BU (3-2-1, 2-1-1 Hockey East) over UMass (1-3-2, 0-3-2 Hockey East), 5-4.
It was a positive outcome in a game in which the Terriers trailed 3-0 at the end of the first period, but due to a momentum-changing 5-on-3 penalty kill for BU followed by an energy-boosting goal soon after, BU mounted a comeback to earn its first win in two weeks.
"I think after a tough weekend last weekend, and I'd say [Friday night] was a disappointment as well, it's huge for us to get a win and come out of the weekend with three points," Nieto said.
The Terriers came out strong in the first couple of minutes of Saturday night's game before relinquishing control to the Minutemen. Once the Minutemen picked up steam, the BU defense struggled to contain them. It did not help that senior goaltender Grant Rollheiser, who earned his first start in net of the season Saturday night, looked shaky on the Minutemen's first two goals of the game.
UMass's first tally came at 10:34 in the first period when Rollheiser struggled to cover a loose puck sitting in front of him, and Minuteman forward Steven Guzzo beat Rollheiser's glove to the puck and put it away before Rollheiser could make the stop.
A BU defensive mishap led to the second Minuteman goal of the night, as junior defenseman Ryan Ruikka attempted to clear a puck, but it took a weird bounce off the boards instead and landed at Rollheiser's feet. The goalie could not find the puck before UMass forward Troy Power slipped it past Rollheiser's five-hole to increase the Minutemen lead to 2-0 at 14:11.
The Minutemen closed the period with a third goal, which came off a turnover right in front of the net by sophomore forward Charlie Coyle. UMass forward Conor Sheary fired a wrister past Rollheiser to make it 3-0 at 19:30.
"I brought [the puck] up and went to pass it," Coyle said of the turnover. "Right when I went to pass it, he got a good play on my stick to lift me up and just had a good shot on net. It was a bad turnover by me, but I tried to put it behind me."
UMass continued to control play into the second period, but the tide seemed to turn when the Terriers killed off 1:05 of a 5-on-3 almost halfway into the period. The Terriers did not allow a single shot on net for the Minutemen on the two-man advantage.
"We didn't get a shot on net, so everything we did in the first period that was so good and so effective, the poise and the decision making, just went out the window with that play and that opportunity," said UMass coach Don Cahoon.
As UMass wilted, BU improved. The Terriers started to win battles for loose pucks, blocked shots better and stayed out of the penalty box. Rollheiser also started playing better in net despite the 3-0 hole.
"I give [Rollheiser] high marks for hanging in there after having a couple bad goals, especially when you give up a goal at the end of the period like that," said BU coach Jack Parker. "I was happy for Rollheiser. He played well."
Rollheiser's and BU's efforts paid off when, at 14:19 into the second, senior forward Corey Trivino sent a cross-ice pass through traffic to sophomore defenseman Garrett Noonan, who roofed a shot past UMass netminder Jeff Teglia to make it 3-1. Freshman forward Evan Rodrigues was credited with his first career assist on the play.
"I think [goals] always get the team going, but when you're down 3-0, you have to get the next goal," Parker said. "That was a huge goal just because they didn't make it four-love. We made it 3-1, and that really jacked us up."
The Terriers shortened the Minutemen lead to one just over a minute later, when sophomore forward Sahir Gill banged home a rebound off a junior defenseman Max Nicastro shot from the high slot to make it a 3-2 game.
BU tied the game in the third when Coyle forced a turnover on the penalty kill at the blue line in his own zone, creating a 2-on-1 shorthanded rush for Nieto and Coyle. Nieto passed to Coyle in front of the net, and Coyle slapped it past Teglia glove-side to make it a 3-3 game with just over 10 minutes remaining. 
The Terriers took the lead a little over two minutes later when senior captain Chris Connolly circled behind the UMass net and passed across the crease to Trivino, who lifted the puck over Teglia's glove to give the Terriers a 4-3 lead.
But UMass did not give up. On a penalty kill late in the third period, the Terriers struggled to clear the puck out, and UMass forward Mike Pereira put a rebound off an forward Adam Phillips shot away to knot the game at four with 5:05 remaining in regulation.
But despite the late push from the Minutemen, the Terriers recovered with Nieto's power-play goal in overtime, earning a win they desperately needed in the friendly confines of their home rink.
"We just keep working hard no matter what the circumstances," Nieto said. "We can be up two goals and we still play the same way. Tonight we had a few unlucky breaks and that happens in the game, but the way we responded, our team was happy."