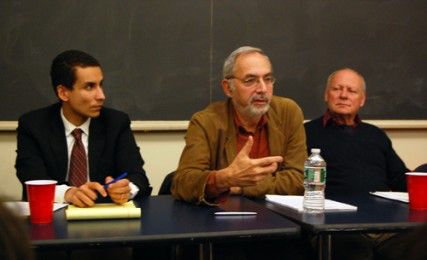 Boston University students expressed concerns about the intentions of the proposed National Emerging Infectious Diseases Laboratories at the BU Biolab panel hosted by the Student Labor Action Project on Tuesday.
College of Arts and Sciences senior Elisa Gill, who mediated the panel at Sargent College of Health and Rehabilitation Sciences, said that the Biolab cost $178 million and has remained empty since 2008 due to multiple lawsuits filed against the facility.
"There are all kinds of interests and concerns in the community regarding the medical center," said School of Public Health professor David Ozonoff, the chair of BU's Department of Environmental Health. "When [the community] brought the concerns to BU, part of the problem that BU had was self-inflicted because it treated the community with unbelievable arrogance and condescension."
Medical researcher Mark Pelletier, a graduate student in the Metropolitan College, said that when he tried to speak to BU officials, they told him to "go away and be quiet until you can come back with somebody who can understand this."
"We've been trying to have a dialogue with BU since about 2003 now and it's been the same thing . . . Every time we set up some kind of venue, BU declines at the last minute," Pelletier said.
Ozonoff said that the Biolab, which is described as a public health facility, has questionable intentions.
"I read the [lab proposal] and I did a 180 on the spot because what I read was that this was not a public health laboratory at all; this was a biodefense lab," Ozonoff said.
"The immediate climate after 2001 was people were a little bit crazy and not seeing things completely correctly, but still it was quite evident on the surface that was not a public health laboratory, this was something deeply embedded in the whole bio defense [program] in the United States, which was getting bigger by the second."
Pelletier said the lab will house extremely toxic pathogens such as West Nile Virus.
Mary Crotty, a nurse attorney for the Massachusetts Nurses Association, said a biological accident could cause severe damage to infrastructure in Massachusetts.
"Massachusetts was ranked as having inadequate preparedness in its critical infrastructure in a number of areas," she said.
"To this day, now ten or eleven years later, the Commonwealth of Massachusetts still does not have an emergency disaster preparedness plan in terms of what hospitals would do," Crotty said.
While Gill said that BU officials declined to attend the panel, BU officials commented in interviews with The Daily Free Press in September.
"The building is done, there is excellent lab space and the faculty and students are ready to do the work," said Stephen Burgay, senior vice president for external affairs at BU. "It makes sense to put lower level research to use so researchers and students can get additional grants at same type of lab space that exists across the street."
Burgay said while controversy surrounds the opening of a Level-4 research, two Level-2 and 3 labs already operate on BU campus and many more throughout the state.