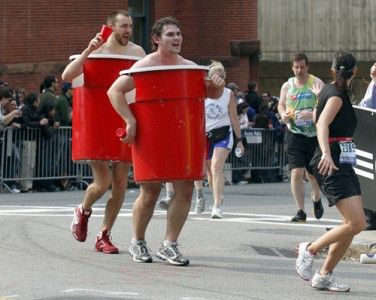 When April rolls around, many Boston University students look forward to two things: warmer weather and Boston's annual Marathon Monday.
According to a Nov. 9 article in the Huffington Post, Marathon Monday at BU was ranked second in a list of the most infamous college traditions.
Students pointed to the exciting atmosphere of the day and its tendency to bring people together as reasons why the tradition is ranked second.
"Definitely, the wildest and most out-of-control moments in my college life have been Marathon Monday and Halloween," said Jose Cota, a senior in the College of Communication. "I mean on Marathon Monday you have the day-drinking, and it's spring time so kids are kind of going a little nuts because it's finally warm in Boston."
Bostonians traditionally celebrate Marathon Monday, officially known as Patriot's Day, by having waffle breakfasts at sunrise, pre-gaming, throwing parties and cheering on the runners, according to the article.
Eight other college traditions made the list, including Ohio State University's Mirror Lake Jump before their football game against University of Michigan, which came in first. Tufts University's Naked Quad Run placed third, with University of Michigan's marijuana festival Hash Bash and the Massachusetts Institute of Technology's pumpkin drop from the University's Green Building trailing in fourth and fifth place, respectively.
Matt Paterno, a junior in COM, said he was surprised that Marathon Monday was listed solely as a BU tradition.
"I think it's pretty interesting that they named it just for BU because when I think of Marathon Monday, I think of it as an event where all the schools come out and come together on a road and just go crazy for the marathon," he said.
However, COM sophomore Brooke Singman said Marathon Monday is different for students at BU than at other schools because it's a day where students show spirit that often goes unnoticed.
"I think it's really cool that it has such a high-ranking because no one thinks of BU as having such a huge school spirit," Singman said.
"While other schools are showing their school spirit at football games, we all kind of get to have this common excitement for Marathon Monday because it's something that everybody is involved in."
College of Arts and Sciences sophomore Breyaundra Woods said she thinks the Marathon should have been ranked first.
"I'm a little disappointed because it's the perfect excuse for a day off. I'm from San Diego, and we don't get state holidays for events like that so it's a little bit of a treat, and it kind of makes my heart-swell with pride because I used to run cross-country in high school," she said.
Whether or not BU can claim Marathon Monday as its own tradition, a number of students said the day certainly lives up to its reputation.
Cota, Singman and Paterno all recalled stories of getting up early with friends to start the "festivities" before taking to the streets to see the runners and then returning home for an early night.
"I'm a junior now so I've been here for two Marathon Mondays, and it's pretty crazy. Everyone has a good time," Paterno said.
Singman said that as a sophomore, he is looking forward to experiencing Marathon Monday a second time.
"Everyone talked about it all year, how it's the best day ever and how you just really won't know until you are there to experience it, but it was actually the best day ever," Singman said.
While most flock to the sidelines on Marathon Monday, some choose to get in on the race.
"I had been training for the half marathon in October and I thought why not? How often will I have this chance?" COM and College of Arts and Sciences senior Ginny Soskey told The Daily Free Press in an interview last April. "I decided I wanted to run because I wanted to push myself to my limit."
Others, such as John Hale, a Boston resident, told the DFP that the Marathon is a good opportunity for Bostonians to support people who commit to the healthy lifestyle necessary to compete.
"This is a once-a-year special commitment for them. It means many different things to each person and they appreciate it when people come to cheer them on," he said in an interview in April.