Saturday night at Agganis Arena, the No. 16 Boston University men's hockey team took a different road but ended up at the same destination as it took on University of New Hampshire for the second time this season.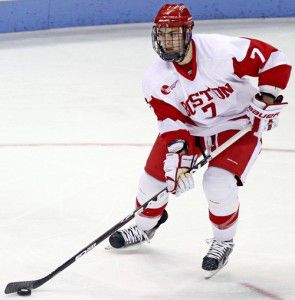 The Terriers (6-4-1, 5-3-1 Hockey East) topped the Wildcats (5-5-2, 4-4-1 Hockey East) by a score of 4-1, a far cry from BU's dominant season-opening 5-0 win back on Oct. 8.
But a win is a win, and, thanks to a trio of third-period BU goals, it's the third straight for the suddenly streaking Terriers.
"We were pretty thorough tonight, and I liked how hard we played from beginning to end," said BU coach Jack Parker. "The score was not indicative of the game. It was really a close game . . . [UNH] kept coming at us and we made some pretty good defensive plays, and we had some pretty good puck luck at times too."
Parker was right – parts of the game were far from easy coasting for the Terriers.
Much of the first period was a defensive stalemate – just as it was on Oct. 8 – with the Terriers and Wildcats both failing to capitalize on their one power-play opportunity. BU led in shots on goal, 9-4, but didn't have anything to show for it, playing to a 0-0 tie that stanza.
That changed less than half way through the second period, as junior forward Wade Megan put BU up, 1-0, at 8:25 with his sixth goal of the season. Almost even with the red line to the left of the net, Megan tossed a shot on goal from a difficult angle that took an odd bounce off of UNH goaltender Matt Di Girolamo and into the goal. Freshman forward Evan Rodrigues was credited with an assist.
UNH knotted things up at 5:05 in the third thanks to defenseman Trevor van Riemsdyk. The blue liner took a shot from near the right circle that snuck through BU goaltender Kieran Millan's stick side, tying the game at one apiece.
Defensemen Max Nicastro didn't waste much time waiting to give BU the lead again, though, thanks to an assist from senior captain Chris Connolly. Nicastro blasted a shot from the blue line at 7:29 for the first goal of his junior campaign.
Seconds later, senior forward Corey Trivino struck again, as he has so often this season, with a goal of his own at 8:05 to give the Terriers a 3-1 lead. He went in on a 2-on-1 with Connolly, who collected his ninth assist of the year on the play, and Trivino tapped his fellow forward's pass right by Di Girolamo's left side.
That 36-second period proved to be a huge momentum shift for BU, which appeared to be struggling for much of the third before retaking the lead.
"When you play good teams, not doing little things right especially late in the game can cost you goals and can cost you the game," Megan said, "so we just wanted to make sure that we really buckled down in the third period of this game. Get the puck out. Block shots. Finish our checks."
According to Parker, though, it wasn't so much the Terriers reverting back to their laid-back style of play as it was the Wildcats coming out that much harder. After being held to 11 shots in the first two periods, UNH collected 23 in the third.
"[UNH] had all kinds of energy trying to get back in the game," Parker said. "I don't think we were really back on our heels, but we had trouble getting out of the zone a few times.
"But [then] you get two goals in a minute, half a minute. That was the end of the game."
Well, almost the end.
Sophomore forward Matt Nieto extended the lead to 4-1 at 18:53, a play that started as a clear attempt and ended as an empty-net goal.
BU's defense buckled down for the final minute-plus, holding on for the win as it continued to impress for the third time in four games. The team blocked 18 Wildcat shots, a big help to Millan, who did make 33 saves in the win.
Although the team switched from zone coverage to a man-to-man system in recent weeks, Parker said the better defense is thanks in most part to pure effort.
"We're trying out to get out to the points a little better, we're trying, figuring out when we want to get in shooting lanes to actually get in the shooting lanes and get on the stick and not semi-block the shot," Parker said. "Once one guy does it, other people buy into it.
"We are really playing harder, that's all. We're playing harder without the puck and we're playing harder on the puck."