NEW YORK – This week, as his team prepared to play the third edition of Red Hot Hockey in The City That Never Sleeps, BU coach Jack Parker might have lost a little sleep over a seemingly minor decision: the fourth line right wing.
It was a choice between junior Ross Gaudet and freshman Evan Rodrigues. A choice between an experienced vet fighting for his spot in the lineup week-to-week and an impressive rookie with three-plus long years ahead of him. A choice between a player without a point this season and one with four assists in his last five games.
Parker ended up going with the former in the game-day decision, and it paid off. Gaudet scored the game-winning overtime goal Saturday night in the No. 15 Boston University men's hockey team's 2-1 win over No. 17 Cornell University at Madison Square Garden.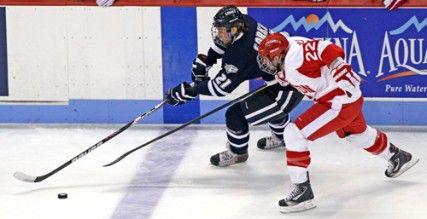 But, as Parker later explained, no decision in a game on a stage as big as Saturday's is a minor one. He struggled with the final lineup right up until hours before the game when, around 1:45 p.m., Parker informed Gaudet that he would play.
"It was a real hard decision. It's a difficult game not to play in, a very difficult game to not [dress for]," Parker said. "This happens every once in a while. It's a hard game to sit guys out.
"In general it was a decision I had thought about for three days because more than anything else I didn't want to tell somebody he wasn't playing."
The coach ended up going with Gaudet for a myriad of reasons, among them the fact that it would be the last chance the junior would have to play in Red Hot Hockey, a biennial tradition between the Terriers (7-4-1) and the Big Red (6-3-0) that started in 2007.
"Ross has played really well in practice the last couple weeks," Parker said. "He missed the last game [against University of New Hampshire on Nov. 17]. I really thought it came down to Ross deserved to play.
"The final reaction was I'll go with the upperclassman, I'll go with the experience," he said. "And I wanted a little bit more size because [Cornell is] a pretty big, physical team."
But well before the forward's big moment at the end of the game, Parker's decision to go with Gaudet had already proven to be the right one. Gaudet was forced into a bit of extra action when he had to fill in as the first line's left wing for a few shifts after senior captain Chris Connolly was hit hard into the boards halfway through the first period.
It was once Connolly returned and Gaudet shifted back to his regular role, though, that Gaudet made his real mark on the game.
The size that factored into Parker's decision to play Gaudet proved critical 2:48 into overtime when junior defenseman Max Nicastro blasted a shot from near the right point. Gaudet positioned his 6-foot, 195-pound body by the goal for a potential rebound and just barely got a piece of the puck as it deflected off of him and into the net.
"I picked up the puck on the wall, I pumped it back to [junior forward Ben Rosen], who threw it up to Max at the high point for a little high play," Gaudet said, sweating under the literal bright lights of the media room. "Then Max took a shot and I was fortunate enough to put my stick on it."
It was a bit of a watershed moment for Gaudet, who played in all 39 of BU's contests last season but totaled just two goals and five assists. After redshirting his freshman year, Gaudet has collected 19 points (12 goals and seven assists) in his two years on the ice – but none has come at a more opportune time than Saturday night's did.
"He's been a good player for us over his career here," Parker said. "He's been staying with it this year to get a goal. Not having one up until now and getting that one must make him feel a lot better."
He then celebrated by "Tebowing," i.e. getting down on one knee much like Denver Broncos quarterback Tim Tebow – a seemingly random motion for the Burlington native with no clear connection to Tebow or Denver.
"It's something I've been thinking of doing if I scored a goal," he said with a smile. "This was a good stage to do it I guess."
Good guess. Under the bright lights of the Big Apple, in front of a sold-out crowd of 18,200, Gaudet allowed his coach to never have to second-guess himself on that final lineup decision.
"It's ironic that – and this happens a lot that in big games, emotional games – three goals are scored by guys that got their first goal of the year," Parker said, grouping Gaudet with sophomore defenseman Adam Clendening and Cornell forward Locke Jillson.
"You never know who is going to wind up the hero."