As the news of Boston University men's hockey star Corey Trivino's arrest and removal from the No. 9-ranked team spreads, students said they support the decision in dismissing Trivino from the team.
"Not only as a BU student but as a senior hockey player, and the leading goal scorer, much of the student body praised him," said Samantha Sharma, a freshman in the College of Arts and Sciences.
Sharma said she considered Trivino's actions foolish, considering the reputation he held at BU.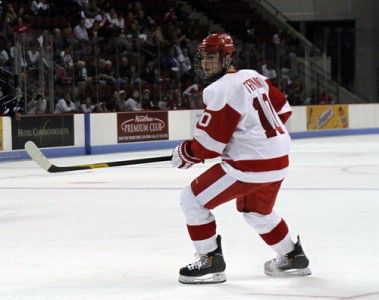 "He was an example for other student-athletes, holding a great position in a great institution," she said. "To do something like this is inexcusable. I appreciate Boston University's act of removing him from the team. [Trivino's] actions should never be condoned."
Trivino, a Metropolitan College senior, was removed from the BU hockey team after being charged with three counts of indecent assault and battery on a person over 14, one count of assault to rape, and three counts of breaking and entering in the nighttime for felony, according to criminal dockets obtained from Brighton District Court.
The BU Police Department report stated that Trivino, who was intoxicated, banged on the door of a resident assistant on several occasions throughout the night, trying to kiss and grope her.
Many students, sports outlets and other enthusiasts have expressed their reactions on Twitter.
Mickey Ryan, a junior at BU, tweeted about the news and commented on the future of the team's season.
"Just found out Corey Trivino got arrested bye bye BU's season," Ryan tweeted.
College of Communication sophomore Brittany Shepard, said she supports the way head coach Jack Parker and BU officials handled the situation.
"Well, first things first Parker definitely did the right thing," Shepard said. "The BU hockey team has one of the biggest reputations at this school and I'm glad to see that the school took care of this quickly."
Shepard said that while she is disappointed by the charges, she is not surprised. Trivino's history on the team – including an incident in May 2010 when he arrived late to a disciplinary bike ride for a team-wide drinking incident – made it come as less of a shock, she said.
"Trivino's a senior that's supposed to be a token member of this team and now we don't have him," Shepard said. "But truth be told, I'd much rather not have him on the team and lose than see someone like that be allowed to participate in an activity that brings this school together."
COM sophomore Jason Chappell, who attends home games regularly, said he agreed with the swift dismissal of the hockey player despite whatever effects it may have on the outcome of the rest of the season.
"I think it's sad that someone with such talent would make such a big mistake," he said. "I think the university responded well, and I hope that the team continues to play well next semester."
Kenneth Elmore, Dean of Students, said is was not his place to judge Parker's decision, but added that Trivino's actions are about more than him being a student-athlete.
"People should treat each other the right way," Elmore said. "Students are expected to be law abiding, smart, to be game changers so it's not an issue of that he's an athlete."