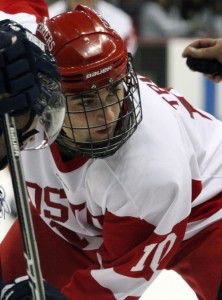 Former Boston University hockey player Corey Trivino appeared in Brighton District Court Tuesday for the first time since being arraigned on charges brought against him on Dec. 12.
Trivino, a 22-year-old Metropolitan College senior, faces charges of assault and battery, breaking and entering and assault to rape. He appeared in court as part of a case check to demonstrate his compliance with the conditions of his release from jail, said Jake Wark, the Suffolk County District Attorney spokesman.
Another court date for the same purpose was set for Mar. 22.
Trivino pleaded not guilty to all charges made against him in December. He was released at that time on personal recognizance after spending a night in jail.
As part of the conditions for his release, the Toronto, Ontario native surrendered his Canadian passport and remains under orders to stay away from the victim and BU housing. Trivino must post $25,000 cash bail if he wishes to use his passport.
Trivino was arrested on Dec. 11 due to an incident in which he allegedly sexually harassed a female student living on campus while he was intoxicated, the Daily Free Press reported on Dec. 13.
A police report obtained in December by The DFP stated that Trivino forced his way into the victim's room three times and forcibly kissed and groped her. After hearing of Trivino's arrest, BU men's hockey coach Jack Parker dismissed Trivino from the team.
Parker deemed Trivino's behavior as the result of an alcohol problem. In a Dec. 13 interview with The DFP, he said he had tried multiple times to get Trivino to be more responsible about drinking, including suspending him in May of 2010, forcing him to do extra workouts and asking him to consider getting treatment for alcohol abuse.
The events leading to Trivino's arrest marked his fourth alcohol-related incident of which the team is aware, Parker said. None of the prior incidents, however, involved such serious allegations as the ones with which Trivino was most recently charged.
In his three-plus years as a Terrier, Trivino scored 31 goals and registered 42 assists. With 13 goals, Trivino was the leading goal-scorer in Hockey East in the 2011-2012 season prior to his dismissal from the team.
Trivino also helped BU win a Beanpot, Hockey East regular season championship and Hockey East tournament championship during his time playing at BU. He was drafted in the second round (36th overall) by the New York Islanders in the 2008 National Hockey League Entry Draft.