When junior forward Isabel Menard joined the Boston University women's hockey team, the Terriers knew they were getting a special player. And when she scored her 100th and 101st collegiate points in BU's 6-0 victory over No. 4 Boston College Wednesday night, Menard continued to make her mark as one of the top players in the league.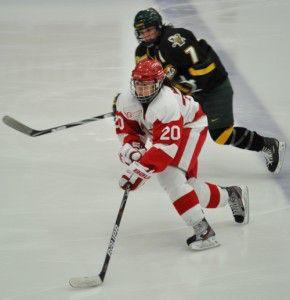 The Terriers held a two-goal lead when Menard and sophomore defenseman Kaleigh Fratkin assisted on sophomore forward Marie-Philip Poulin's fifth goal of the season. This assist registered as Menard's 100th career point, which she captured only one game after scoring against the University of Vermont for her 99th career point.
"It was a relief," Menard said. "I've been waiting for it for a little while now."
Poulin, returning to the lineup on Menard's line after missing three games, scored to lift her teammate to the century mark. Despite Poulin's sore shoulder, the pair, along with sophomore forward Louise Warren, worked well together on the second line.
"It was great [playing with Poulin and Warren]," Menard said. "We work hard in the corners and that really helps our team get momentum. I thought we played well."
As a bonus to her milestone point, Menard added a second assist in the third period, this time feeding senior defenseman Tara Watchorn on the power play. Menard has performed well on the power play for BU this season, scoring four power-play goals, the second most on the team.
Putting up big numbers for her team is nothing new to Menard though. The former Syracuse University star scored 34 goals and 46 assists in her two years with the Orange, leading the team in points both years. With her success at Syracuse, she was nominated for the Patty Kazmaier Memorial Award, which is presented to the best player in NCAA Division I women's hockey.
Menard has continued performing at a high level with the Terriers despite the jump in quality of competition between College Hockey America, Syracuse's conference, and Hockey East.
"Isabel was a fantastic player for two years at Syracuse. She has come here and she has fit in great with our team," said BU coach Brian Durocher. "Kids recognize how hard she has worked, how focused she is on what she does academically and athletically here. Those are all traits you want in your program."
In her first games with BU, Menard made an instant impact with the team, scoring a goal and three assists in her first weekend of games against then-No. 7 University of North Dakota. She tallied three assists in her first career game with the Terriers, while scoring BU's only goal in the team's second game to prevent BU from being shut out.
Menard made a significant impact in Wednesday's win with her two assists, and helped the team knock off its rival and first-place conference competitor by a wide margin. After the win, BU is now tied with the University of Maine at 16 points for third place in Hockey East.
With Poulin back in the lineup playing with Menard, the combo could supplement the top pairing of senior forward Jenn Wakefield and freshman forward Kayla Tutino to create problems for opposing goaltenders.
Whoever she is playing with, Menard figures to be a key player on a BU team set to make a surge towards the top spots in the conference.
"I just go out there and play whoever I'm playing with and whoever's up there," Menard said. "I try to do my best and just do everything that I can do for the team."