The No. 2 Boston University men's hockey team, the winner of 12 of its last 14 games entering the weekend, has been bitten by a bug – the injury bug.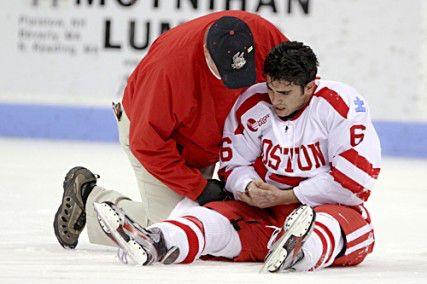 The Terriers (15-8-1, 12-6-1 Hockey East) lost a pair of defensemen, freshman Alexx Privitera and junior Max Nicastro, to injuries in Friday night's 4-2 loss to No. 20 University of Maine. These two developments had deep impact on Saturday's 3-1 Black Bear (14-8-3, 11-7-2 Hockey East) win – and potentially the rest of the regular season.
The big blow – and BU's first severe in-season injury of the year – was Privitera's broken wrist. It came in the first period of Friday's game when Black Bear captain Will O'Neill laid Privitera out in the slot in BU's defensive end. The freshman's right wrist bent backwards on the play, and tests later confirmed it was broken.
BU coach Jack Parker said Saturday Privitera is expected to return in four weeks.
"Maybe," Parker said, knocking on a plastic table. "Hopefully."
Nicastro, who combines with junior Sean Escobedo as the resident elder statesmen of BU's defensive corps, also got hurt, suffering a shoulder subluxation – effectively a less severe version of a dislocation.
"[He] probably shouldn't have finished up the game," Parker said.
However, with Privitera already out and BU down to five defensemen, there wasn't much of a choice.
There was a chance Nicastro could have played on Saturday, but once we woke up that morning feeling worse than he did Friday night, Parker knew he was going to be a no-go. Nicastro could be available for the team's matchup Friday, Feb. 3, against Merrimack College.
On Saturday, Parker decided to stick with using five defensemen for the entire game as opposed to putting junior Ben Rosen, who has played defense in prior years with the Terriers, back behind the blue line. Rosen was listed on the lineup sheet as the sixth defenseman but assumed his regular position of fourth-line center come game time.
According to Parker, he considered giving Rosen some minutes on defense, but that thought never came to fruition.
"I had no intention of having him play the whole game on defense, but I thought he might have to kill a penalty for us," Parker said. "If our defensemen got exhausted he might have to take a couple shifts, but . . . I wanted him to play center ice because that line [with juniors Ross Gaudet and Ryan Santana] has been playing well. And he played well at forward tonight."
The result was a rotation of five defensemen, so "each guy is asked to eat up some more minutes," as senior captain Chris Connolly put it, each one a bit more tired. This, Connolly continued, put a bit more stress on the offense.
"The forwards just have to be more aware that our D are going to need as much rest as possible so we have to play as smart as we can," he said.
Even a man short, the defense played well enough to impress the 39-year head coach. Junior Ryan Ruikka, playing in his first game since Jan. 14, in particular drew praise from both Parker and Connolly.
"Credit to Ruikka," Connolly said. "He stepped in and played really well tonight, and that's good to see, especially because Privitera's going to be out for a little while."
The defense, as tired as it must have been, didn't help its own cause at times. Sophomores Garrett Noonan and Adam Clendening, two players pegged as the unofficial defensive leaders by Parker earlier this year, took a combined five of the team's 11 penalties.
Fortunately for BU, the rest of the team was able to hold Maine to just 1-for-8 with the man advantage.
"As it went on we kind of were able to get in a rhythm and figure out what the right way to defend was, and then we executed pretty well," Connolly said. "We'd be kidding ourselves if we didn't say [sophomore goaltender Kieran Millan] was a big part of that."
With the impressive penalty kill, Parker said he fully intends on sticking with the five defensemen – Clendening, Noonan, Ruikka, Escobedo and sophomore Patrick MacGregor – should Nicastro be unavailable when the team visits Merrimack and, three days later, plays in the Beanpot semifinals against Harvard University on Feb. 6.
"The five that were in tonight did extremely good job shorthanded, gave us a chance to win," Connolly said. "Our D corps is doing a very good job and fingers crossed we'll get Max back real soon."