One year ago, the Boston University men's hockey team left a blemish on its Beanpot legacy by finishing in last place for the first time since 1980. The loss was an embarrassing one for a BU team that has been so successful historically in the Beanpot that, at times, it has been dubbed the "BU Invitational." BU has won almost half (29) of the previous 59 Beanpot tournaments.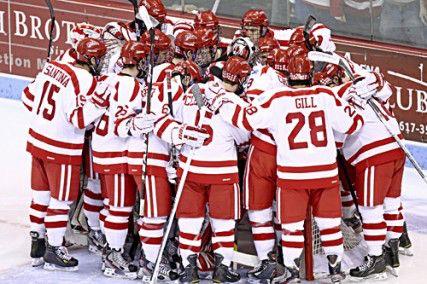 In recent years, however, the Beanpot has belonged more to rival Boston College than to the Terriers. BC has won the coveted trophy in three of the past four seasons. Even worse, the Terriers enter the tournament this year at the risk of going three straight seasons without a Beanpot championship for the first time since 1983-85.
And so on Monday, the No. 3 Terriers (16-8-1, 13-6-1 Hockey East) will begin their quest to restore Terrier glory in the 60th edition of the tournament. They will begin that journey by facing the opponent who embarrassed them last season: Harvard University.
"Obviously finishing last last year really puts a lot of pressure on us to perform this year, and I think we're up for the challenge," said senior goaltender Kieran Millan. "I think that everybody on the team is pretty excited. It's an unbelievable tournament. It's a great opportunity to win a championship. I know it [stinks] being my last one, but hopefully it will be a good one."
Millan is one of just six Terriers to have experienced winning a Beanpot. BU last won the tournament in 2009, when the members of the senior class were just freshmen and BU topped Northeastern, 5-2, to capture the tournament championship. BU beat Harvard in the first round that season, and the Terriers are 16-4 against Harvard when playing the Crimson in the semifinals.
But Harvard (7-6-9) has been no easy opponent in the last two games BU has played against the Crimson. In addition to the 5-4 loss against Harvard in last season's Beanpot consolation game, BU struggled against the Crimson earlier this season. The Terriers traveled to Harvard on Jan. 14, and BU rallied from a 3-1 deficit to top Harvard in overtime, 4-3, thanks to a game-winning goal from sophomore defenseman Garrett Noonan.
Harvard has not lost a game since falling to BU that night. The Crimson are 3-0-3 in their last six contests, which is currently the third-longest unbeaten streak in the country.
Harvard boasts the best power play in the nation (30.8 percent). They have a strong freshman goalie in Glastonbury, Conn. native Steve Michalek (6-5-8, .902 save percentage) and a quality scorer in senior assistant captain Alex Killorn (14 goals, 15 assists).
But while Harvard has played well in recent games and almost beat BU earlier this season, Crimson coach Ted Donato said the Beanpot is anybody's game.
"Certainly, we've had a few years where we've played very well or even beat them before the Beanpot and didn't have the same result in the Beanpot," Donato said. "I think that it's a one-game shot. They've been as good or better than anybody at it over the years. We'll have our hands full, but we're excited about the opportunity and the challenge."
Of the sixteen current Terriers who have played in a Beanpot before, Noonan, junior assistant captain Alex Chiasson and senior captain Chris Connolly have enjoyed the most success on the score sheet. Noonan made his Beanpot debut last season and recorded three points (1 goal, 2 assists) in his first two Beanpot games. Chiasson has three goals in four Beanpot contests, while Connolly has three assists in six games.
Millan has tended goal in every Beanpot game the Terriers have appeared in throughout his career. He owns a .899 save percentage and a 3-3 record in the tournament.
BU enters the 60th Beanpot somewhat short-handed. The Terriers will be without freshman defenseman Alexx Privitera, and junior defenseman Max Nicastro is doubtful to play with a shoulder injury. If there is any team that is well-equipped to play a big game short-handed, however, it would be the Terriers.
BU has already bounced back from losing two of its top scorers earlier this season. While missing an entire defensive pair to injury, the Terriers played two close games against league powerhouse Maine before beating No. 4 Merrimack College, 4-1, on Friday night.
"We've had some trying times," said BU coach Jack Parker. "But a lot of guys have stepped up and the thing that is most noticeable is that this team is really confident in themselves. They don't think they're the best team in college hockey. They don't think they can win every night without effort, but they're confident in themselves and the guys show up for each other.
"The best thing I've seen from our team so far is how quickly they've come together as a team, and I think hopefully that will do well for us in the Beanpot and also for the rest of the year."