The No. 1/ 2 Boston University men's ice hockey entered this season's Beanpot tournament looking to prove itself after an embarrassing fourth-place finish in last season's tournament. The Terriers took care of business in last Monday's Beanpot semifinal via their 3-1 win over Harvard, but the journey for revenge is not yet complete, as a berth in the Beanpot title game does not win any trophies.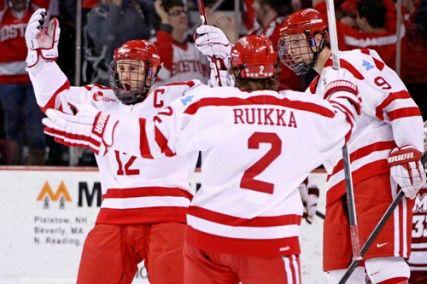 So on Monday night, BU will look to finish the job when it takes the ice against No. 4/5 Boston College at TD Garden in a game that will not only determine this season's Beanpot champion, but also partly determine the legacy of this season's BU team.
"You judge a team at the end of the year by what they've accomplished and by what they've won," said BU coach Jack Parker. "BU teams aren't real good teams unless they win some championships. You could be No. 1 in the nation or the No. 1 seed in your league. You can get to the Beanpot final. You can do all those things that make you look like you're about to win a championship, but if you don't win something, it's just an okay year no matter what the record is.
"This team will be judged on what happens from now until March and April. We'll see who is going to get a chance to win championships in March and April. This is the first one that is available."
The task of winning a championship Monday night will not be an easy one. After a sluggish stretch from November through mid-January in which BC went 7-9-1, the Eagles seem to have found their groove. They are winners of four straight games thanks in part to more consistent play from junior goaltender Parker Milner, who, after being benched for most of January, has started the last four games for the Eagles. Milner owns a .909 save percentage through his 19 starts this season.
BC also boasts a fearsome group of forwards in junior Chris Kreider (18 goals, 15 assists), senior Barry Almeida (17 goals, 9 assists), and freshman Johnny Gaudreau (13 goals, 11 assists).
The Eagles enter Monday's match-up on the heels of two dominating victories. Last Monday, BC throttled Northeastern, 7-1, in the Beanpot semifinal, and on Friday night, the Eagles handled the University of Vermont easily, topping the Catamounts by a 6-1 margin.
"They have arguably the best skating team in the country," said senior captain Chris Connolly. "They always do. They have a lot of small fast forwards and that makes it really important that our decisions at blue lines are the right ones and we chip pucks in and don't make too many turnovers, because they'll really make you pay for it off the rush."
In contrast to the recent BC success, BU enters the Beanpot title game off two underwhelming performances. The first came in last Monday's less-than-spirited 3-1 win over Harvard that Parker said was an example of the Terriers "not playing their best game." BU followed up Monday's lackluster performance with a 3-2 loss to the University of Massachusetts Friday night.
Parker, however, said he doubts either team's recent results will have an effect on the Beanpot championship game.
"I don't think any of that matters," Parker said. "Sometimes crazy things happen in the Beanpot. Exciting things happen. The game can get wide open. It can get ridiculously emotional. There's a whole bunch of things that can go on."
The one thing BU does not want to see Monday night is another BC Beanpot championship. BC's total Beanpot titles, 16, pale in comparison to BU's 29 Beanpot championships. The Terriers' traditionally strong performance in the tournament has generated nicknames for the tournament like the "BU Invitational," and BU has occasionally been nicknamed "Beanpot University".
But the Eagles have stolen some of BU's thunder by winning three of the last four Beanpots, and they enter Monday night's game with a chance to win their third consecutive Beanpot. The three-peat is a feat that a team other than BU has only accomplished one other time in Beanpot history, as BC won three consecutive Beanpot championships back in 1963-65.
While Parker remains somewhat impressed by BU's historical dominance of the tournament and BC's recent success, he said neither should have any bearing on Monday night's game.
"In the '90s, we won 8 out of the 10 Beanpots, and in the 2000s, we won 7 out of the 10 Beanpots," Parker said. "Now we're in the 2010s and we haven't won any yet. So there's a long haul for us to match up [to] that type of standard.
"Our fans probably think that we're supposed to win it, but nothing is destiny. The only thing that counts is playing hard [tonight]."