After sophomore defenseman Garrett Noonan's game-tying goal in the third period of Monday night's 3-2 overtime loss to No. 3/4 Boston College, the blue-liner's face flashed on the video board for all of the TD Garden to see. Instead of a gleeful grin or an emotional yell, a celebrating Noonan gritted his teeth and raised his arms, showing a stalwart expression that looked as if he was ready to carry the world on his shoulders if it would help his team win.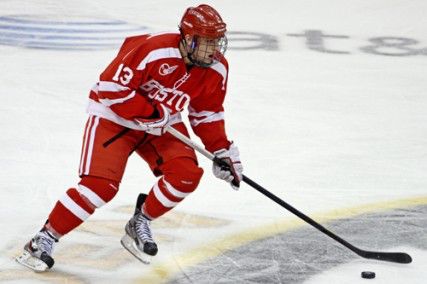 Noonan scored both of the No. 2 Boston University men's hockey team's goals Monday night. It was a memorable game for a player who grew up in a suburb of Boston, a game that was spoiled only by an overtime goal that rested in the wrong net.
After the game, Noonan was anything but pleased. He was too heartbroken to say much, but what he did say was telling.
"The goals are nice and stuff like that, but I'm just crushed," a downcast Noonan said moments after the BU loss. "I feel like we could have won that game."
It is not surprising that Noonan cared more about the outcome of the game than his own goals. Every college hockey player would say the same thing, but Noonan's glassy eyes during the press conference proved just how much he meant it.
His focus Monday night was reminiscent of his focus and intensity from the entire season. He has contributed in every possible area in order to help his team win, and in the process, Noonan has evolved as the premiere defenseman not just on the team, but also in the league. The blue-liner ranks fourth in Hockey East in plus minus with a team-leading plus-15. His 11 goals this season tie him for second-most in the nation by a defenseman.
The results are a remarkable feat for a player who was somewhat overlooked throughout his career. Noonan was a late addition to the Terriers' class of 2014. He committed to BU the May before he arrived on campus, and was a much less heralded player than touted blue-liner and classmate Adam Clendening. But last season, Noonan proved himself as one of the most reliable defensemen on the team, finishing the season with a plus-5 rating and 15 points (four goals, 11 assists).
Last June, the BU community watched the NHL draft eagerly to see where Noonan's teammates, Clendening and sophomore forward Matt Nieto, would go. Noonan added a bit of a surprise to BU's draft day, as he was chosen by the Nashville Predators in the fourth round thanks to his play for BU last season and a few summer hockey games with former Terrier and current Predator Colin Wilson.
In the months since the draft, Noonan has gone from simply an NHL draft pick to a player who has the résumé to leave college early for the pros.
Noonan never acknowledges his own triumphs when speaking to the press, but that does not mean his play goes unnoticed by others around him.
"He means a lot to our team," said Clendening, who plays alongside Noonan on the team's top power-play unit. "He's out there in the last minute of every period. He's very reliable. He's one of our best two-way guys, you know, besides the 11 goals, which is a lot for a D-man. He's just a guy you can trust out there no matter what."
On Monday night, BU did not just trust Noonan; it relied on him. After falling into a 1-0 hole after the first period, Noonan converted on a power play in the second period to tie the game.
BC regained the lead at the end of the second frame, but it was Noonan's crucial power-play tally in the third that extended the affair into overtime. The goal came almost a minute into a 5-on-3 for BU. Clendening found Noonan waiting on the left doorstep of Eagles goaltender Parker Milner's crease. Noonan directed the pass off the back of Milner's skate and into the net for the goal.
"There was a lane there, and I just shot for Noonan's stick and thought it hit off his stick," Clendening said. "Apparently [according to] him, it hit off the back of the goalie's skate and went in. I was wondering why it took so long for him to celebrate."
At the end of the game, there were no more celebrations from Noonan. Although the sophomore has collected five points (three goals, two assists) in four career Beanpot games, he has yet to capture a Beanpot trophy. Noonan, it seems, will not celebrate until he has a trophy in his hands, and rightfully so. He will likely never boast to the media about his triumphs on the ice.
But that does not stop those close to him from taking pride in all he has achieved thus far, even if those achievements come in an overtime Beanpot loss.
"I'm happy for him," Clendening said of Noonan's two goals Monday night. "He deserves it. He is a great kid, great player. He just gets to the areas he needs to get to, takes his time, and makes sure he finishes it. You have to love his skill, and he showed it tonight."