Junior defenseman Max Nicastro was arrested early Sunday morning for an alleged sexual assault of a female student, and he has been suspended indefinitely from the No. 2 Boston University men's hockey team. The news was first reported by BU Today.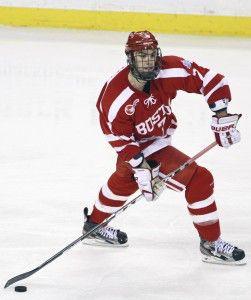 Neither BU coach Jack Parker nor any of the players are currently available for comment, and will not be until late Tuesday morning at the earliest.
BU spokesman Colin Riley said the incident occurred "on campus" in a dormitory, but could not offer much information.
"The facts as they are are upsetting," he said.
No further action will be taken – be it concerning Nicastro's status as a member of the team or a student at BU – until the investigation is complete, Riley said.
Jake Wark, Suffolk County District Attorney spokesman, said Nicastro will be arraigned in Brighton District Court Tuesday morning.
On the ice, Nicastro is currently the team's third most offensively productive defenseman. The 6-foot-3, 210-pound blueliner has registered three goals and six assists, putting him behind sophomores Adam Clendening (three goals, 23 assists) and Garrett Noonan (11 goals, six assists).
Nicastro has also blocked 35 shots in 27 games this season, ranking him fourth among BU players.
His suspension again leaves the team with five defensemen. Freshman Alexx Privitera is out with a broken wrist – he may return this weekend against Vermont, Parker said on Thursday – and Parker used five defenseman when Nicastro was out earlier this semester with a bad shoulder.
The Nicastro incident comes just two months and six days after news broke that Corey Trivino was arrested and dismissed from the hockey team after an incident on Dec. 11.
Following that incident, residents of 10 Buick St. told The Daily Free Press there was consistently raucous behavior by members of the men's hockey team. Those residents identified Nicastro as the worst offender, though to that point nothing had been reported to officials.