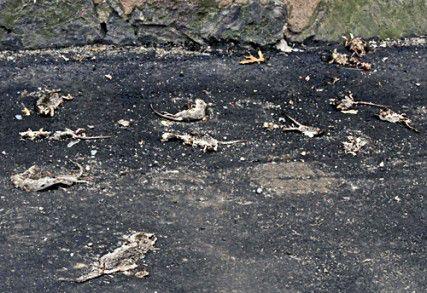 Boston University College of Arts and Sciences senior Will Huebner's bedroom is larger than the average-sized double in Warren Towers, but the room is riddled with cracks and holes.
Two cracks in the drywall, about six inches in length each, run along the ceiling, he said. Mice and rats use a two-foot-long hole in the wall to enter and exit the apartment.
"It's like the rats have chewed away at it for years and years," Huebner said. "Every night I can hear them."
Huebner resides at 48 Brighton Ave. in Allston, where Boston's Inspectional Services Department conducted inspections last week to check up on and enforce city and state building, health, sanitation and safety codes.
The inspections yielded over 40 violations, said ISD Spokeswoman Lisa Timberlake.
Over the course of three days, building, housing, electrical and environmental inspectors teamed up with firefighters to canvas the Allston area and performed more than 150 inspections of various apartments and houses, she said.
"There were quite a few issues, here and there," she said. "A lot of the violations were smoke. Missing smoke detectors, missing carbon monoxide detectors. Those, I believe, were the main issue."
After the ISD records the violations, they report the issues to the owners of the property, Timberlake said. Depending on the violations, owners have between 24 hours to 30 days to fix the problem.
"If they don't comply within the time frame allotted to them, then we will have to forward that complaint to housing court," she said.
The conditions in Huebner's apartment violate the code of Safe and Sanitary Housing for Massachusetts Residents, which requires the owner of a residential building to "keep the structural elements free from holes, cracks . . . or other defects [that] may cause an accident or constitute an insect or rodent haven."
Huebner said he enjoys living off campus, but living in Allston has its ups and downs.
"Living in Allston is a very special experience that is good and bad for a lot of reasons," Huebner said. "It's a great place to live for a short time, but I think the turnaround in Allston is about two years."
A BU School of Management senior who lives at 45 Ashford St. in Allston and asked to remain anonymous said the management and landlord staff ignore issues and rarely act to solve problems.
"This past weekend I was having a little get together," he said. "It came to a screeching halt when twenty gallons of this nasty, yellow water started pouring down from the ceiling in the bathroom."
When seven firefighters showed up, they fixed the leak but had to shut down power in fear of wires short-circuiting if exposed to water, he said.
At press time, he did not yet have power restored to his bathroom or bedroom.
"We've called the landlord a couple times [and] the guys upstairs have called the landlord," he said. "As far as I know nobody's even gotten a response from them yet and it has been four days."
The students said they find it difficult to contact the companies that manage their apartments, Brighton Realty Management and J A Wood Management.
Brighton Realty Management plays a pre-taped message to callers that directs complainants to an outsourced company that is not located in Boston, where operators said they forward the complaints they receive.
Effectively, tenants cannot reach landlords directly, said Kathy, an operator for the service who asked to keep her last name anonymous.
Callers who select the "emergency service" option when calling J A Wood Management reach operators who say that only damaging incidents such as fires and floods constitute "emergencies."
One J A Wood Management operator, who asked to remain anonymous, said a call about a rodent problem "would be logged and would not get an immediate response, and then we would educate the person on what truly is an emergency."
He said he would not divulge contact information for landlord or realty companies to tenants.
The SMG student said the gap in communication grows larger when building managers do address problems.
"They didn't really bother to water-tight any of the bathroom," he said, explaining why a mushroom had begun growing on his bathroom ceiling. "All [J A Wood Management did was] take the mushroom and drop it in the toilet. They didn't even flush. They blatantly ignored the real problem, which is the bathroom is totally moldy."