BURLINGTON, Vt. — The No. 5/6 Boston University men's hockey team was less than two minutes away from a loss to the University of Vermont that could have hurt its chance at home ice in the Hockey East playoffs, its seeding for the NCAA tournament and its overall morale heading into the last weekend of the regular season.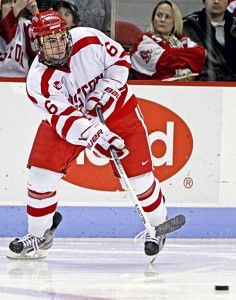 Instead, junior forward Wade Megan scored a 6-on-5 goal to send the game to overtime and freshman defenseman Alexx Privitera scored the game-winner in his first weekend back from injury in BU's 3-2 win.
The win clinched home ice for BU (20-11-1, 16-8-1 Hockey East) in the Hockey East tournament and sent the team home from Vermont (6-25-1, 3-21-1 Hockey East) with a sweep after a 5-0 win on Friday.
After winning handily on Friday, the Terriers were caught back on their heels a few times in the first period by a more aggressive Vermont team than they'd seen the night before. Catamount winger Connor Brickley struck first, picking off an attempted BU breakout pass from the corner and firing a quick shot on senior goalie Kieran Millan that found the five-hole.
"Maybe it's human nature – maybe you think it's going to be easy because the night before you won, but it's almost always the same," said BU coach Jack Parker. "The team that gets whacked comes back and plays harder the next night, and the team that wins thinks, 'We don't have to play quite as hard.'"
BU had a few up-ice rushes broken up by Vermont defenders in the next several minutes before red shirt freshman forward Yasin Cissé was called for a hit from behind.
Seconds after Cissé's two-minute penalty expired, Vermont forward Sebastian Stalberg took a backdoor pass from his linemate Nick Bruneteau and snapped it past Millan for the Catamounts' second goal on eight shots.
Although Millan didn't allow any more goals after a shaky first period, he was outplayed for most of the game by Vermont senior goalie Rob Madore. Madore made 34 saves to Millan's 22, and, as the Terriers began to control the pace of the game, he was the primary reason the Catamounts hung onto the lead until the final two minutes of regulation.
"He's been the backbone of our team," said Vermont coach Kevin Sneddon of Madore's play over the last four years. "He's had a tough year . . . but when you look back to a young freshman coming in and taking a team all the way to a Frozen Four, then to get us back to the NCAA Tournament, he was a huge part of that and we can't forget that."
After picking up two assists on Friday, sophomore forward Sahir Gill found his way back into the goals column with a dramatic play halfway through the second. Junior defenseman Sean Escobedo, jumping into the rush with the forwards, centered a pass to Gill that he knocked past Madore while diving on his stomach.
"I thought it was his best game in a while, not just because he got a goal but because he was playing so hard," Parker said of Gill. "He was bouncing people, he was creating offense by getting pucks away from Vermont defensemen and then getting away from them himself."
BU appeared to tie it 2-2 a few minutes after Gill's goal when sophomore forward Matt Nieto rang a shot off the left post and one of the Terriers pushed the rebound across the line. Upon review, the puck was ruled to have been kicked in and the goal was disallowed.
The Terriers picked up their pace in the last few minutes of the second but couldn't add to Gill's tally.
In the third, they forced Madore to make a number of quality stops in the last home game of his collegiate career. Of the 17 saves he made in the frame, a number came on shots through multiple screens, and another was a point-blank one-timer that looked like a sure goal from sophomore defenseman Adam Clendening.
With 1:41 left in the third and a face-off in BU's offensive zone, Parker pulled Millan. Sophomore defenseman Garrett Noonan and junior forward Alex Chiasson each got a shot off on Madore as four Terrier forwards clustered around the net, and when a loose puck bounced to Megan in the slot, there was nothing Madore could do to stop the shot. Megan's 17th goal of the year tied the game 2-2 and sent it to a five-minute overtime.
"Chiasson made a great play from behind the net," Megan said. "He found me on the corner of the net and I kind of misfired the shot. It ended up going behind the net. It went over to Nieto at one point. It went off his shin pad or something. I was just kind of standing there."
Privitera sent a slap shot from the point past Madore with 1:58 remaining in overtime to win it for BU. That capped off a two-point weekend for the freshman, who returned on Friday from a broken wrist he suffered Jan. 28.
With two games left in the season, Parker was planning for BU's matchup with Northeastern University next weekend, but he said he was also hoping to see Vermont, who is eliminated from playoff contention, win at least one more time.
"I know that was a tough pill for them to swallow," he said of the Catamounts, "but maybe you'll get them to go down and beat [Boston College] a game for us."