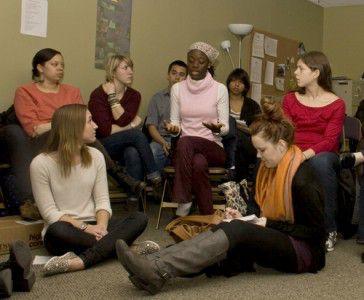 College of General Studies sophomore Taylor Todd said Boston University should be held to certain standards in addressing issues related to "rape culture."
"A lot of high schools and other institutions are held to that standard," she said. "So why shouldn't BU?"
The Center for Gender, Sexuality and Activism held a conversation with Dean of Students Kenneth Elmore and a town hall meeting on Monday night. About 50 students gathered to explore the term "rape culture" and how to address it at BU.
Students raised their hands and were selected to speak by CGSA-affiliated students moderating the meeting. The students were instructed to introduce themselves by first name, or anonymous, and to specify what gender pronoun they would like to be called.
One student said part of the rape culture encompasses several misconceptions and issues, including students' failure to understand the terms of sexual consent and the idea that people have to guard their sexuality.
The student, who did not disclose their name to the group, said rape culture is perpetuated by sexual crimes, misogyny and institutional tolerance, rather than the way in which people dress.
Much of the town hall meeting focused on what more BU could do to educate people on rape culture, stop rape culture and offer more support to the "rape culture survivors" on campus.
The CGSA called for additional full-time staff members to deal specifically with sexual assault victims, according a CGSA Press Release from Thursday.
The CGSA suggested mandatory trainings for all coaches, athletes, faculty and student leaders by the Boston Area Rape Crisis Center, as well as a "zero-tolerance" policy for convicted perpetrators of rape and sexual assault.
"I think one of the most important tools is media, and creating a social taboo," said Devyn Buckley, a College of Arts and Sciences junior.
Buckley said it is the students who need to take action with help of the administration.
A number of students at the meeting agreed that people need further education on rape culture.
"Get them while they're young," said Bethany, a BU student who addressed the audience. "Let's take over Orientation."
Elmore said he agreed with much of what students spoke of.
"We've got to continue having these conversations," Elmore said.
However, he did not confirm any plans for change through BU.
"At least right now, let's continue putting information out there for folks," he said.
Stacy Godnick, assistant dean of CGS and advisor to the CGSA, said Elmore can only do so much.
"I think there is an urgency here that he would agree with, and the students want things done today, and I think . . . there's a method to madness if you will," she said. "He's listening and . . . there will be action items that come forth, he just couldn't promise anything today."
Allison, another student who spoke during the meeting, told the forum to continue to be respectful to BU administration, but continue to call attention to issues related to rape culture.
"You can be respectful and still really assertive about your dissent and how things are not okay here," she said. "They are still operating like a business.  They do just care about the money and their image, so keep giving them bad publicity, until . . . they are taking sexual assault seriously."