After scoring the overtime game-winner for Northeastern University on Saturday, former Boston University men's hockey forward Vinny Saponari said he talked with some of the Terriers, including senior goalie Grant Rollheiser, in the handshake line. BU coach Jack Parker wasn't among them.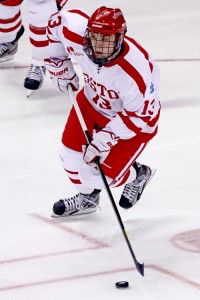 "We've moved on. I'm sure he's moved on," Parker said. "He's a good player. He was a good player when he was with us, and I'm sure he had a very good season for them because he's a very good player."
Senior captain Chris Connolly said he spoke briefly to Saponari, who came to BU in the same year as Connolly but lost a year of eligibility when he transferred to Northeastern.
"He's good friends with a lot of us on the team," Connolly said. "He was a classmate of mine, so I just said good luck with everything he has to do next year, and that I'd see him around. I know he'll be around the area, so maybe over the summer.
So. Many. Penalties.
After Saturday's game, when the Terriers and Huskies were called for a combined 27 penalties, BU finished the regular season averaging 19.6 penalty minutes per game to lead the league.
"We are the most penalized team in the league, and I think the second most penalized team is whoever we are playing," Parker said.
While that statement has certainly appeared true in several of BU's conference matchups, it may not hold up in the Hockey East quarterfinals against the University of New Hampshire this weekend. UNH (14-17-3, 11-14-2 Hockey East) averages 10.1 minutes in the box per game, the fewest in the conference.
In its three regular-season meetings, BU racked up 36 penalty minutes to the Wildcats' 24 and won all three games. As has been the case throughout the season, the Terriers' penalty kill covered for their lack of discipline – UNH went 0-for-15 on the power play in those games.
Goal-Scoring Garrett
Sophomore defenseman Garrett Noonan has had the definition of a breakout year, finishing the regular season with 14 goals and eight assists. His 14 goals this season breaks the record for goals scored by a defenseman in a year in Hockey East. Northeastern defenseman Rob Cowie held the record prior to this season with 13 goals in 1990-91.
Noonan showed flashes of that scoring touch last year with four goals and 11 assists, but according to Connolly and Parker, as Noonan's confidence has mounted, so has his points total.
"He thinks there's two great defensemen and he's both of them," Parker said.
Connolly joked about Noonan's self-assurance too and referred to him, laughing, as "overconfident."
"I don't know if that's overconfident or not, but nothing bothers him," Connolly said. "He thinks he can do some more things, he wants to do more things, and we try to reel him in a little bit to make sure he'll play defense first."
O Captain! My Captain!
While Parker expressed frustration with his team on Saturday, he had no problem with Connolly, who recorded three assists and a goal in his last regular-season game to finish the year with eight goals and 27 assists.
"He has had the most assists for a career for any player at BU since Chris Drury was here," Parker said. "He's got the [third] most assists in the league this year. He has been a consistent producer of points for us. I think he has had his best year in his senior year, which is always great."
In a year when BU hockey players have garnered more than their share of negative publicity, Parker said Connolly is a better representation of his team and college hockey in general.
"If you wanted to have a prototypical college hockey player, student-athlete, a good guy, a good teammate, producer of winning plays in pressure situations, Chris Connolly would be a pretty good poster boy," Parker said.