Despite losing in the Hockey East Semifinals Friday night, senior captain Chris Connolly of the No. 5 Boston University men's hockey team was all smiles Sunday afternoon.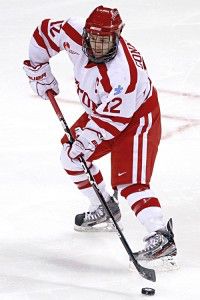 The reason? The Terriers are headed to Connolly's home state of Minnesota for the West Regional of the 2012 NCAA Tournament in St. Paul.
After a two-year absence from the national tournament, the Terriers earned an at-large bid due to a 23-14-1 overall record this season. BU is the ninth overall seed in the tournament and will face eighth-seeded University of Minnesota on Saturday at 4 p.m. Central Standard Time.
Fourth-seed University of North Dakota and 14th-seed Western Michigan University fill out the rest of the West Regional bracket.
"This is quite a field, and I think every bracket has tough draws," said BU coach Jack Parker. "Certainly ours is a tough draw for everybody."
The Terriers watched the selection show from the video room of Agganis Arena, and a brief player poll before the bracket was announced showed the majority of the team – with the exception of sophomore defensemen Patrick MacGregor and Adam Clendening as well as junior assistant captain Alex Chiasson – predicted BU would play in St. Paul.
Connolly was absent for part of the viewing party in the video room as he called in to the ESPN selection show as part of a simulcast with his younger brother Jack, a senior captain for the University of Minnesota-Duluth Bulldogs. In an odd twist, Jack Connolly and the Bulldogs will travel to Massachusetts for the Northeast Regional in Worcester while Chris Connolly and the Terriers will play in Minnesota.
"I [texted him and] said it was pretty cool on the show and everything, said it looks like we're swapping positions," Connolly said. "I was reading about the possibility of us playing them in Worcester, so that was a little nerve-wracking. I know it's a potential possibility of meeting him at some point. I just didn't know if it was potentially going to be this early."
Connolly, a Duluth, Minn. native, last played at the Xcel Center in St. Paul when his high school team, the Marshall School, finished third in the state tournament in 2005. Connolly said he is very excited to return to Minnesota for the regionals.
"For me, it's an opportunity to get back home and enjoy being around some of the people that are going to be able to make it that I haven't seen in a while," Connolly said. "I'm extremely excited. I don't know how the boys feel, but I can tell them all they'll be real excited when they get to such a great spot. The Xcel Center is arguably one of the best places to play. The fans are great and diehard hockey fans. St. Paul is a great city. It will be a short trip for my parents and it's going to be really nice to get back there."
Although Connolly is familiar with the area, neither he nor the rest of the Terriers is familiar with its first-round opponent. BU has not played the Golden Gophers (26-13-1) since Minnesota traveled to Boston in 2005 for the final game at Walter Brown Arena on Jan. 2, 2005 and the opening game at Agganis Arena the next day. BU lost the first game, 2-1, then came back to win the second game, 2-1.
Parker said the team will have to rely on film to get to know its opponent.
"I haven't seen anything of Minnesota this year," Parker said. "I know historically, they've always been wide open. I shouldn't say wide open, but a real fast team that can get after your offense. They're probably very similar to UNH. They play in a big rink. They have a lot of young skaters that can move around and we'll watch them on film. We'll watch a lot of film these next couple of days."
Since St. Paul is more than 1,000 miles from Boston, it will be difficult for many Terrier fans to make the trip, but Connolly said the Terriers should expect a strong crowd.
"[Minnesota fans] literally have to travel nowhere to go watch their team play," Connolly said. "They're going to be crazy. It's going to be loud. The North Dakota fans bring their entire state down, so there won't be a lack of fans down there. There won't be a lot of empty seats and it's going to be an exciting place to play."
The long trip gives the Terriers a chance to come together and get focused. The Terriers have performed well in longer road trips this season, as BU is 4-1 when playing in games that require an overnight stay. The only loss came against Notre Dame in BU's first game back after losing two players over winter break.
"We've done very well on the road this year and that's good because [in the] playoffs all the games are on the road," Connolly said. "To get out there in a new environment, away from the city and away from all the local media, just something new to be together with the guys, it's a bonding experience. The plane ride, the hotel rooms, the meals, you're always together.
"I don't think it could have played out any better for us, to be honest."