ST. PAUL, Minn. — On Saturday, the No. 8/10 Boston University men's hockey team's season ended with a 7-3 loss to the No. 6 University of Minnesota in the NCAA Regionals. Minnesota outshot the Terriers 42-34 and scored two empty-net goals to ice the game, which saw BU rack up 29 penalty minutes.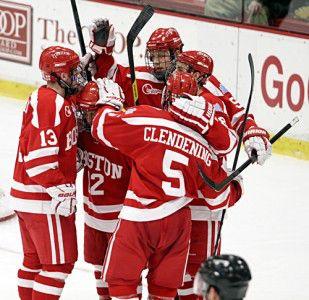 "Kind of a bizarre game in that there were times when both teams had pretty good territorial advantages and both teams looked okay," said BU coach Jack Parker. "I thought Minnesota had the best of it as the game progressed. I was really impressed with the Minnesota goaltender. I thought he had a nice night for them."
About six minutes into the first period, senior goalie Kieran Millan lost track of a rebound that wound up behind him, and Gopher forward Kyle Rau poked it into the net nearly six minutes into the first.
Minnesota (27-13-1) led 1-0 through the rest of the first as each team picked up three penalties. Then, with Gopher forward Nico Sacchetti in the box for goaltender interference, junior forward Wade Megan evened the score for BU (23-15-1) 7:49 into the second.
Sophomore defenseman Adam Clendening's slap shot from the point bounced off the post to where Megan was waiting in the slot to convert his 20th goal of the year.
After Megan's power-play tally, the second period broke open both in terms of penalties and scoring. Minnesota defenseman Jake Parenteau took the Gopher lead right back at 9:21 with a shot from above the hash marks off a feed from the corner.
Four minutes later, redshirt junior forward Ross Gaudet put on an individual show as he picked off a Gopher pass in BU's defensive end, carried it into the offensive zone, stole it back from a Gopher who picked his pocket and slapped in his fifth goal of the year to make it 2-2.
But again, the tie didn't last long. Less than two minutes after Gaudet's goal, Gopher defenseman Seth Helgeson scored a goal very similar to Parenteau's a few minutes after Gaudet's equalizer.
Seconds later, junior forward Justin Courtnall put BU in a difficult spot when he left his feet to hit a Minnesota player and received a game misconduct penalty, his third of the year.
With redshirt freshman winger Yasin Cissé serving Courtnall's five-minute major in the box, it only took Minnesota 20 seconds to make the Terriers pay. Right wing Jake Hansen tipped a shot from the point past Millan, who appeared to have trouble seeing the shot through traffic in front of the net.
"You want to emphasize not to beat yourself," said senior captain Chris Connolly. "One way is to stay out of the penalty box, and we obviously had an issue with that tonight. Throughout the game our team did a good job of being resilient as we have all year. It was never for a lack of effort – you just think, too many costly penalties had to cost us in certain situations."
With the Terriers still shorthanded on Courtnall's major, junior assistant captain Alex Chiasson and defenseman Sean Escobedo got tied up in a scrum in front of the Minnesota bench. Both went to the penalty box, as did Minnesota forward Ben Marshall, making it even more difficult for BU to establish any kind of momentum.
Clendening gave BU life with a goal early in the third period, a slap shot from the point that got through to the top of the net cleanly. But the Terriers couldn't add to it before Sacchetti, having broken free of BU's defense, cut in front of the net and deked around Millan to make it 5-3 in the Gophers' favor.
In the last four minutes of the game, the Gophers tacked on two empty-netters to put the game out of reach and earn a spot in Sunday's regional final against their main rival, the University of North Dakota.
Five seniors ended their collegiate careers in Saturday's game – Gaudet could return next year but hasn't decided yet if he will – and Parker had nothing but praise for the players who have been a part of his team for four years.
"The guys on my left here are two good examples of what you want college hockey players to be," he said of Gaudet and Connolly. "This was a team that stuck together and got better in the second half of the season. When everyone else thought we'd take a big dive, we played pretty well. We ran into a team – the better team won tonight."