Boston University men's hockey junior assistant captain Alex Chiasson agreed to terms with the Dallas Stars of the National Hockey League on a three-year entry-level contract on Monday, ending his hockey career at BU.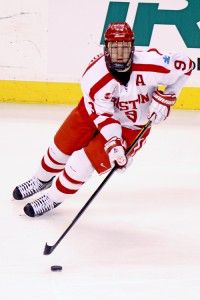 The professional contract ends a successful career with the Terriers for the 6-foot-3 forward, who totaled 99 points in 108 games played. The Stars' former-second-round draft choice said he made his decision on Monday after a meeting with BU coach Jack Parker.
"We had a good conversation and afterwards I cleared up my mind and made sure it was the right decision for me that I was ready to leave and go on for a new challenge and a new experience," Chiasson said. "[Parker] thought if in my heart that's what I wanted to do then he was going to support me through it."
The next stop for Chiasson is Cedar Park, Texas, where he will join the Texas Stars, the American Hockey League affiliate of Dallas. The 21-year-old will likely play in the final eight games of the squad's regular season.
"It's going to be good for me to see where I'm at personally and what I need to work on this summer and obviously my goal next year is to make a good impression at camp and try to go in the Stars right away," Chiasson said.
Chiasson led the Terriers in points (46) and was tied with senior captain Chris Connolly in assists (31) this past season. With his strong regular-season performance, Chiasson was named a Hockey East Honorable Mention All-Star. One of his most memorable moments of the year was his game-winning goal in double-overtime of game three of the Hockey East Quarterfinals against the University of New Hampshire that propelled the Terriers into the conference semifinals.
Those type of plays are a result of the great improvement Chiasson has undergone since he arrived at BU. Chiasson jumped from only seven goals and 12 assists his freshman season to 14 goals and 20 assists in his sophomore year, a 15-point improvement. Chiasson made another big jump in point totals between his sophomore and junior years, as he improved by 12 points.
Many of Chiasson's former teammates congratulated his decision over Twitter, sending their best wishes to the St. Augustin, Quebec native.
"Congrats to Chaser on signing with Dallas," tweeted junior forward Ben Rosen. "Great classmate and one of the best Frenchies out there."
Sophomore forward Sahir Gill also wished his former teammate luck over Twitter.
"Congrats to Alex Chiasson on signing. Love to see him go, but ya hate to watch him leave," Gill said.
Chiasson said that his decision was a challenge because of the friends he had made while playing for BU.
"I have made some great friends here and I have met some awesome people, and it was definitely a great epxerience," Chiasson said. "It's probably the best three years I've had so far.
"I really love the school, love the city . . . I think we appreciate what BU gave to me."
While Chiasson will leave BU this semester, he will finish up his economics degree in the College of Arts and Sciences over the summer.
"You never know what is going to happen with hockey," Chiasson said. "You're not going to play hockey for 30 or 40 years so I think there is always something to rely on and like I said, BU was the best thing, for me, to happen."