As the city rolls into springtime, Bostonians can expect to see more green grass, hear more birds and ride more New Balance Hubway bikes.
The bike-sharing program, which opened for its second season in March, will open several new stations in the Greater Boston area in the upcoming year, according to a City of Boston press release.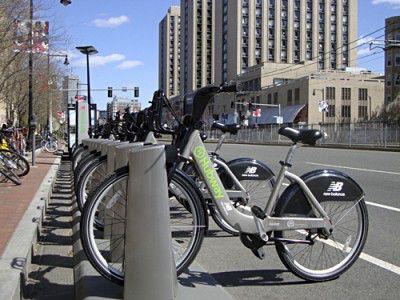 During its first season, the Hubway program logged 140,000 rides in total from its 3,700 members and 30,000 causal users, according to the release.
In the two weeks since Hubway bikes have made their way back onto Boston streets this spring, the program has logged 15,000 total trips and signed up 5,000 members.
"As warm weather returns and more residents are spending time outside, it's great to see so many people eager to explore our great city through Hubway," said Boston Mayor Thomas Menino in the release, adding that the program plans on adding new stations in Cambridge, Brookline and Somerville by the end of the year.
The Hubway program "is outstanding," said Mark Vautour, manager at Landry's Bicycles. "It gets more people on bikes, which makes drivers more aware of bikes, and helps raise awareness and . . . just helps promote a healthier society."
Rather than hurting business at the Commonwealth Avenue store, Hubway has helped it, Vautour said.
"Today we had two people come in and by helmets for Hubway, so . . . more people on bikes makes people more aware of bikes . . . which I think is overall good for our business," he said.
But the bike-sharing program's effects on other local bike shops have been too small to measure, said Vei-Vei Lin, assistant manager of Superb Bicycle on Beacon Street.
"It actually really hasn't affected our business at all," she said. "We might have seen a little influx just from people coming in to look for helmets. It might have inspired some people to come buy their own bikes, but other than that, it hasn't made too much of a difference."
Since Hubway stations have only been around for about a year, spotting the lines of Hubway bikes parked along roads' edges still remains something of a rarity for many Bostonians, she said.
"A lot of times it is actually tourists from out of town that ride Hubway, so I guess it hasn't quite changed anything [within the community] yet," Lin said, adding that "anything to help somebody get on a bicycle is a good thing, especially if it's a cheap rental."
On Boston University's campus, which has four Hubway stations along its stretch from Danielsen Hall to the Star Market past West Campus, many students said they have never used the bike-sharing program.
"I tried using Hubway once because it was really late and we wanted to get back to our place really quick," said Gayle Miner, a freshman in the College of Arts and Sciences, "but we got really confused by the whole transaction thing."
Miner said she might use the system on a day with mild weather if Hubway simplified the transaction system, adding that the rental system offers a convenient means for getting from place to place quickly.
The traffic on Commonwealth Avenue deters Jennifer Kim, a CAS sophomore, from using the Hubway bikes, she said.
"Where the cars are running by on Comm. Ave.," she said. "It's really dangerous."
CAS freshman Diana Vo said using Hubway would only be practical if she were traveling a long distance.
She said, "I feel like going from [Warren Towers] to CGS would be a waste."